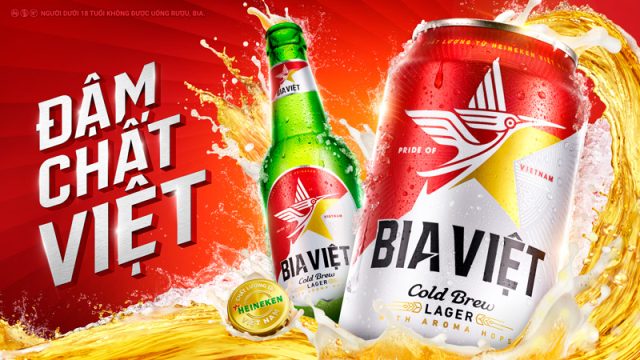 Ho Chi Minh City, September 18, 2023 – Today, Bia Viet has officially launched its upgraded version, with some enhancements truly Vietnamese to the product's look and taste. The new Bia Viet continues to stay true to the brand's aspiration of becoming the beer representative for the spirit of Vietnamese people. As part of the launch, Bia Viet is running a creative communication campaign, collecting real consumers' experience as they enjoy the new beer and compiling into an authentic, first-of-its-kind video advertisement.
Developed by HEINEKEN's Vietnamese brew-masters, Bia Viet since first launched 3 years ago, has constantly been listening to the feedback of consumers, and looking for ways to address evolving needs and elevate enjoying experience. With this new version, Bia Viet is unveiling a bolder taste in a more modern and premium look and bringing a more aspiring product to Vietnamese consumers.
The new brand design draws inspiration from elements that are recognizable all Vietnamese people, including the Lac bird and the symbolic yellow star, blending modern tones of silver with traditional red and leaving the New Bia Viet with a touch of contemporary and dynamic identity. The new product is also presented in a green bottle, imparting a refreshing feeling to the beer, and exuding a more premium look to the offering. Brewed from the highest quality hops, the new Bia Viet comes with a rich aroma, a bold taste, and a smooth aftertaste, which is expected to delight Vietnamese drinkers across the country.
The new Bia Viet is launched with quite a unique communication campaign, in which the brand seeks and collects feedbacks for the beer from consumers and turns them into a video advertisement. For 17 weeks, consumers from across Vietnam are being invited to share their opinions about the new Bia Viet. The campaign was kickstarted on 13 August 2023 and has gathered 3,000 ideas to date, with some featured in the first video here.
On the launch of the upgraded Bia Viet, Ms. Anna Bizon – Marketing Director of HEINEKEN Vietnam shared: "The New Bia Viet exemplifies our commitment to prioritize consumers at the forefront of HEINEKEN Vietnam, as well as Bia Viet's aspiration to become the national beer brand that stands for all Vietnamese people across the nation. Carrying 'truly Vietnamese' taste, identity and introduced through a first-of-its-kind communication campaign, the all-new Bia Viet will be elevated to become a beloved beer brand of all Vietnamese moving forward."
The new Bia Viet is currently available in 330ml cans and 355 ml bottles, and 12- and 24-can cartons, offering a range of choices to Vietnamese consumers. To share how you feel about our new beer,  and/or for more detailed information, please visit www.facebook.com/BiaVietOfficial.