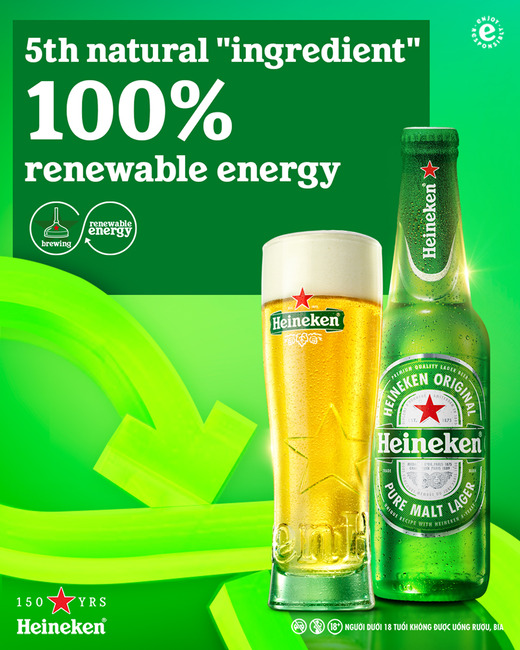 Ho Chi Minh City, 19 October 2023 – On the occasion of its 150th anniversary, Heineken®, one of HEINEKEN Vietnam's most premium brands, has officially announced that all Heineken® products are now brewed with 100% renewable energy. For the past 150 years, Heineken® has been delighting consumers in over 190 countries around the world with its superior quality and the experience of good times over a drink. Committed to another 150 years of good times and beyond, the brand is adding renewable energy to its brewing and contributing to HEINEKEN Vietnam's sustainability ambition of "Brewing A Better Vietnam".
All the products in the Heineken® franchise, including Heineken® Original, Heineken® Silver, and Heineken® 0.0 – as such, are now being brewed with 100% renewable energy in Vietnam. The thermal energy in the brewing process comes from biomass, with input from agricultural by-products like rice straw, rice husks, and sawdust. Electrical demand in the production, meanwhile, is being covered by Energy Attribute Certification (EACs) sourced from certified solar projects in Vietnam. Towards the future, HEINEKEN Vietnam is also exploring some bolder renewable electricity solutions, including Direct Power Purchase Agreement (DPPA).
For one and a half centuries, malted barley, hop extract, A-yeast and water have been the four main ingredients to make the highest quality Heineken® products. To celebrate the brand's 150th Anniversary, Heineken® is adding renewable energy as the fifth natural ingredient to the brewing of Heineken® in Vietnam. This new ingredient will become an indispensable element of all Heineken® products and form part of many good times the brand will be creating with its consumers well into the future.
Commenting on this milestone, Ms. Anna Bizon – Marketing Director of HEINEKEN Vietnam, said "This wonderful world is where we grow the natural ingredients, brew our products, and experience good times with our consumers. At HEINEKEN Vietnam, we are working every day to brew products of superior quality, create meaningful connections with people and communities, and realize our sustainability vision of 'Brewing a Better Vietnam'. As our flagship brand Heineken® is turning 150 years old this year, we are proud to announce that Vietnam has become the next country where Heineken® is brewed with renewable energy – after the Netherlands and Brazil. This is truly a remarkable progress on HEINEKEN Vietnam's journey towards "Brewing A Better Vietnam". At the same time, with one more natural ingredient added into the brewing of Heineken®, we look forward to many more good times with our consumers in the next 150 years and beyond."
For more detailed information regarding this renewable energy claim, please visit this page.