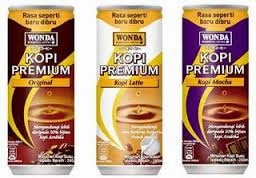 Asahi Group Holdings launched the first RTD coffee drink Wonda Permium Coffee in Malaysia in December 2013 in cooperation with Permanis, its local unit since acquired in 2011. The roll out was accompanied by an innovative five-senses campaign including 5D advertising and pop-up ad in the local daily New Straits Times (NST) over five consecutive days in January 2014. The campaign evoked sight, smell, taste, touch and hearing including a newspaper edition with the smell of coffee.
Despite the impressive campaign concept, the choice of NST seems to be a mistake. The circulation of NST has been trailing behind the The Star and The Sun, a free newspaper, for years.  Readers are abandoning NST as well as The Star as both dailies are seen as mouthpieces for the ruling government. The more sophisticated urban readers are now seeking 'better' coverage from the alternative media. For print media, The Sun, owned by Berjaya Group, is a better platform as it is available for pickup at convenience stores and at office buildings with a readership (ie. office workers) that is more likely to drink coffee.
By the way, where is the Facebook site and social media/internet marketing for Wonda?
In addition, the poor choice of the packaging design does make Wonda look rather invisible on store shelf. It is a pity that the drink has got the taste right, not too sweet with no bad aftertaste but suffers from bad packaging design. Asahi has great designs for its canned coffee for the Japanese market but why settle for a mediocre design for the Malaysian market?
Moreover, the TVC for the Malaysian market focuses on giving white-collar office workers the much needed energy lift, an all too common product positioning. The drink claims to contain more than 50% Arabica coffee beans and tastes like just brewed. Perhaps a much stronger focus on the higher Arabica bean content will give the drink a stronger premium positioning with good taste, quality ingredient at a fraction of the price.
In terms of pricing, Wonda is in the mid-level, sharing the same price as the Nescafe 240ml canned RTD Original Milk Coffee/Black Roast/Mocha/Latte. It is very clear that Wonda is competing with market leader Nescafe. We will see if Asahi is successful in getting coffee drinkers shift to the new Wonda.
| | | | |
| --- | --- | --- | --- |
| Petronas Treats (Feb 2014) | Volume (ml) | RM | RM/L |
| Nescafe White Coffee | 240 | 2.7 | 11.3 |
| Alicafe Premium Gold/Tongkak Ali | 250 | 2.8 | 11.2 |
| Old Town White Coffee | 240 | 2.5 | 10.4 |
| Wonda | 240 | 2.2 | 9.2 |
| Nescafe Mocha/Original/Black Roast/Latte | 240 | 2.2 | 9.2 |
| Pokka Cappucino Coffee | 240 | 2.0 | 8.3 |
| Nescafe Ice Coffee | 300 | 2.2 | 7.3 |