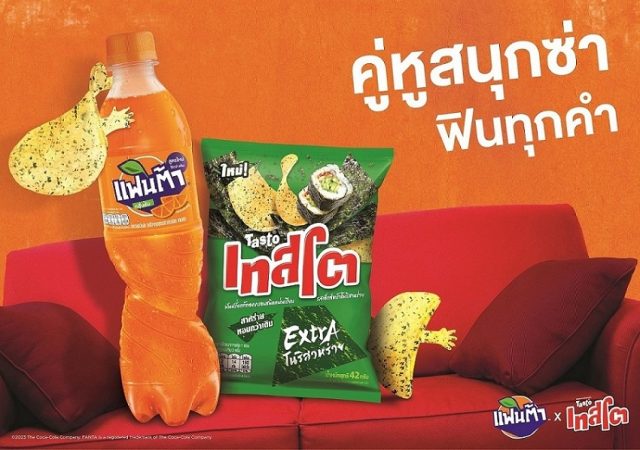 Wednesday 14 June 2023 – 'Fanta', the vibrant and playful brand under the Coca-Cola Thailand beverage portfolio, partnered with 'Tasto', one of the leading potato chips brands in Thailand, to launch the most joyful ever campaign, 'Fanta' x Tasto Duo.
The collaboration aims to thrill the playful-at-heart Gen Zs to break new ground by pushing snacking moments to the new boundaries. This campaign full of thrill can well resonate 'Fanta' 's burst of happiness, with unhurried indulgence in each sip. With the distinctive fizzy and delicious taste, this iconic multi fruit-flavored soft drink will create a never-before 'Snacksperiments', together with the cool snacks as its duo.
The snacking moments are even more fun, as the campaign dares the bold youngsters to express their creative ideas and creativity for the new heights of 'Fanta' x 'Tasto' snacking moments, via the participation in fun and exciting ChampionCHIP challenge which they can share on social media with the heaps of cool weekly prizes await.
Mrs. Richa Singh, Marketing Director, Coca-Cola Thailand, Myanmar, and Laos, said about the partnership: " 'Fanta' has always represented a burst of happiness and indulgence in each sip. Very much like the people who enjoy drinking flavored soda and are playful-at-heart, 'Fanta' continues to be an icon of joyful consumption. With its vibrant colors and distinctive tastes, 'Fanta' 's range of flavors dancing on our taste buds, complemented by the multi-sensory experience, provides a much-needed contrast to the monotony of daily life. It reinvigorates snacking sessions with spontaneity, fun, and excitement, ensuring that every moment spent with 'Fanta' is an adventure in itself. This year, we have embarked on a mission to spread the message of savoring delightful snacking experiences. 'Fanta' is thrilled to collaborate with 'Tasto', a leading potato chips brand in Thailand which the fun is engraved in its DNA while striking the taste buds with its bold flavors, ranging from classics to signature creations. Through the partnership of the leading fruit-flavored carbonated soft drink brand and the leading potato chips brand in Thailand, this 'Fanta' x Tasto collaboration will help leverage the snacking moments for Gen Zs to be more fun, fizzier, and more savor than ever."
'Fanta' ChampionCHIP challenge urges Gen Zs to participate in 'Fanta' x Tasto Duo Campaign, the first-time ever gamified activities on social media platform. The youngsters are encouraged to join snacking moments through the ChampionCHIP challenge which will become more fun as the level gets harder. To bring more vibes and playfulness to the snacking moments, the missions will be joined by Thailand's popular snack hackers and content creators. Join the activities now until July 2023, only on 'Fanta' Thailand and 'Tasto' Club social media channels, to win weekly cool prizes, such as 'Fanta' x 'Tasto' Fun Snack Sack and PlayStation(R)5 console.
With a blast of fun, 'Fanta' kickstarts the first mission of ChampionCHIP challenge, part of 'Fanta' x Tasto Duo Campaign, by exclusively inviting Gen Zs to participate in join by getting as creative as they can by photographing themselves with the snacking duo: 'Fanta' in any flavor and 'Tasto' Extra Nori Seaweed Flavor and upload the most creative, vibrant photos on social media platform from June 1-18, 2023, with the hashtags #ภารกิจคู่ซ่าแฟนต้าคู่เทสโต and #FantaTH. The top 15 winners will be invited to join an exclusive event with the popular Gen Z duo, Pond-Naravit Lertratkosum and Phuwin-Phuwin Tangsakyuen, at the Atrium,1st floor, Siam Center.
Enjoy more Snacking Moments with 'Fanta', the favorite flavored fizzy drink in four flavors: 'Fanta' Orange, 'Fanta' Grape Pop, 'Fanta' Fruit Punch, and 'Fanta' Strawberry, and 'Fanta' Sugar-Free variants available at the convenience stores, supermarkets, and hypermarkets nationwide and on different e-commerce websites. Share your 'Fanta' Yummy Snacking Moments and follow more information by visiting us at official Facebook, https://www.facebook.com/FantaThailand