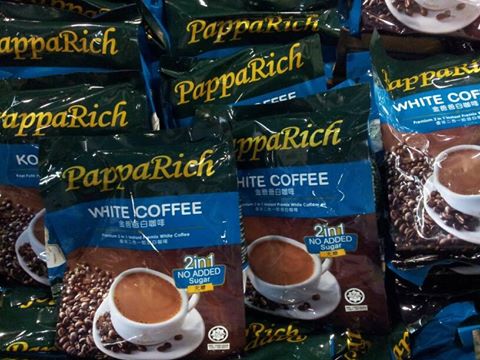 It has been a while since I updated readers on the instant coffee market in Malaysia. What caught my eyes lately is the new PappaRich instant coffee range making its debut at the latest Food and Beverage Expo on 22-24 August 2014. The new range of products comprise 3-in-1 white coffee original, 2-in-1 white coffee no sugar added, kopi 'o' kosong and kopi 'o' 2-in-1 sugar added.
PappaRich Group Sdn Bhd is one of the key players in the kopitiam (coffee shop) scene. The most famous is the OldTown franchise but PappaRich has a more upscale look. OldTown started off in retail with the consumer pack 3-in-1 white coffee before entering into foodservice. The opposite happened to PappaRich which commenced the business as a restaurant before recently moving into FMCG. The convergence is invertible as companies look for new sources of growth. However, not all can succeed in their new venture.
Singapore-listed Super Group was reported to have set up its own chain of coffee shop in Malaysia. Stanley Lim, the author of the blog piece on Super Café, feels the experiment by Super Group is a disappointment because there is no value in the coffee and the pastries were poorly presented.
Malaysia's Power Root also has plans to go into foodservice but till now, there is no news of its proposed foray. It appears foodservice is a tough nut to crack for established FMCG players given the strong competition in the mass kopitiam segment. Not all FMCG companies can emulate Oldtown's success in both restaurant and consumer pack coffee.