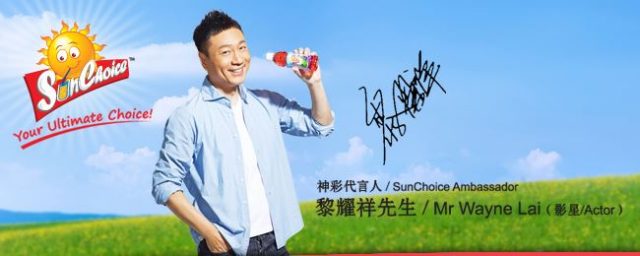 Malaysia's Blue Ocean Food Industries Sdn Bhd has recently launched a range of fruit juice drink and Chinese herbal drink under the SunChoice brand. One of the most interesting thing about this product is the company is able to enlist HK actor Wayne Lai to become the brand ambassador.

The SunChoice range consists of fruit drinks:
– Apple
– Grape
– Lemon tea
– Mango
– Lychee
– Pink guava
Hot-filled Chinese herbal beverages:
– Honey ginseng
– Longan Lo Ho Go (monk fruit)
– Honey chrysanthemum
– Imperatae cane with water chestnut
Hong Kong TVB actor Wayne Lai is widely known among the Malaysian Chinese community as they tend to follow TVB drama. I am a bit skeptical about this brand ambassador approach. I am not convinced having Wayne as the brand ambassador will help popularise the new drink. Also, I don't see what else this drink has to offer. It simply does not have a unique selling point (USP).