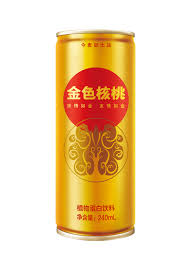 China's Jinmailang (今麦郎) has recently introduced Golden Walnut (金色核桃) as a gift for loved ones. The special thing about this new walnut beverage is the choice of its colour – gold. Gold is something unique for walnut drink as most of the mainstream walnut drinks in China are usually in blue and green with white spaces.
Red is the colour of choice for Chinese New Year and other festivity, which fits the gifting positioning of this drink. Gold is the colour of exuberance, a colour of tuhao (土豪), which often refers negatively to mainland Chinese who are rich but uncultured or uncouth nouveau riche.
Here is a list of items considered to be tuhao including this luxury car in gold. The question is will Golden Walnut still attract consumers during non-festive periods or will the colour change to something less gold to attract non-gifting occasions?