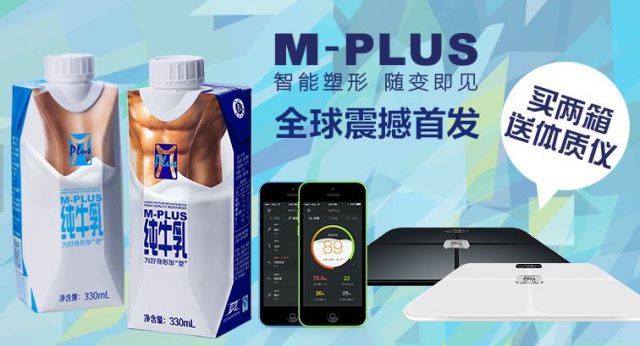 In the fourth quarter of 2014, Mengniu introduced M-Plus, a new fitness milk, in collaboration with Kunlun Fight, the biggest MMA/K1 event in China,  ChronoCloud Medtech (Shanghai) and Hylink Advertising, a full-service digital agency. The 330ml M-Plus contains 3.6g of high quality protein per 100ml, 20% higher than the national standard, and 118mg/100ml of iron.
Nutritional content.
M-Plus is to provide a complete self-help package to consumers who embark on an exercise program and stick with it.
The pre-exercise stage involves measuring the body mass and keeping track of changes through an intelligent scale. The device monitors biological rhythms (Chronobiology) of user's fundamental vital marks, such as blood pressure, heart rate, temperature, muscle and body fat.
The second stage is to use the M-Plus app to obtain customised solutions to meet individual fitness needs.
The third and final phase is consuming Mengniu M-Plus high-protein milk within 90 minutes after each workout session. The milk comes from Australian Jersey cows graze on 100% American pasture.
Nutrition-conscious consumers increasingly recognise the benefits of protein. The current fad for plant-protein drink in China epitomises the demand for protein. Plant-based protein is often associated with brain development, improve memory, beauty and good for health. The key benefits of plant-based protein drink is low in fat, balance diet, suitable for lactose intolerant consumers and free from cholesterol.
Maintaining healthy bones and muscle building are some of the more popular attributes associated with dairy protein. The new M-Plus helps associate dairy protein with fitness and this association provides the crucial link for Mengniu to tap the growing opportunities for dairy products as the go-to protein source for workout.
Combining the use of the digital platform such as cloud computing and app, M-Plus has branded itself as an integrated solution. It enables consumers to achieve the perfect workout without having to spend on expensive packages at fitness centres. Whether consumers will continue with the M-Plus program is another story.