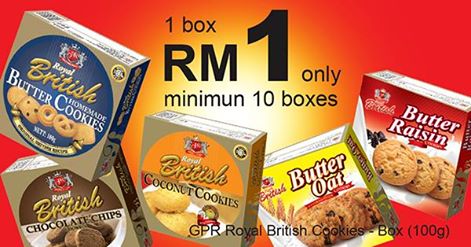 With Chinese New Year just around the corner, the Malaysian biscuit producer GPR Food Sdn Bhd has done something special. It has set up several outdoor booths mainly in the Klang Valley as part of its Cookies Fair 2015. It is rather rare to have a booth selling only cookies. The usual CNY outdoor booth sells mandarin orange, dried meat, pomelo, hampers and new year cookies. The CNY booth tends to be located on the side of the road and red is the dominant colour with merchandise usually in red eg red mandarin orange boxes staked high on the ground.
Typical CNY booth
The company is selling the cookies at a deep discount such as RM 10 for ten boxes of cookies or RM 1 per box but the minimum purchase is 10 boxes.  The McOaty oat cookies and British cookies in tin are also on sale with prices ranging from RM 10 to RM 20 per three packs.
Perhaps such promotion is likely to serve as a means to promote greater brand awareness as GPR Food is shifting its focus on the domestic market. The company was previously focusing solely on exports. The timing of the cookies fair does coincide with the run up to CNY, which means the company may be trying to associate its cookies as CNY gift.