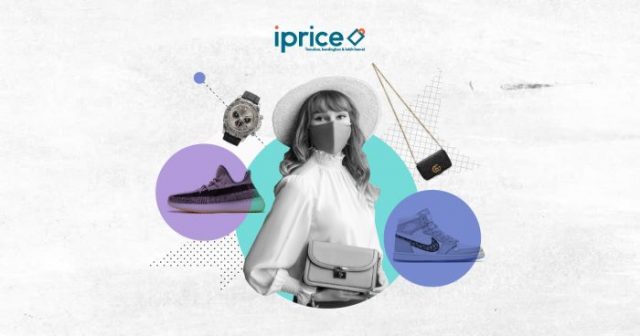 We've all heard heartbreaking news after heartbreaking news because of this pandemic, and one of which will be (literally) cramping our style: our favorite retail brands are closing their physical stores one by one. Numerous news sites report on this retail apocalypse as people hide inside their homes to avoid catching the coronavirus. Does this, however, mean that consumers in Southeast Asia are less interested in shopping fashion? And what of the luxury brands?
A study by iPrice Group claims that Southeast Asians are looking for these brands online even more so after the pandemic struck. Since consumers are restricted to visit physical stores, there is an increase in Google impressions on the top luxury and sports fashion brands in iPrice's platform.
SEA Consumers Are Still Interested in Luxury Brands, Especially the French Brands
Comparing January and February's impressions versus May and June's, iPrice concludes that French luxury retail brands garnered the most interest. Louis Vuitton's searches increased by a shocking 555%, with their clothing and bags spearheading the increase of search interests by 1,395% and 146% respectively. This is followed by another French luxury fashion house, Yves Saint Laurent, with an increase of 306%. YSL's shoes and perfume saw an increased interest of 931% and 392% respectively. Lastly, Chanel comes in third place, as its Google search impressions increased by 274%. Interestingly enough, people were most interested in their skincare products (which increased by 1,205%) and their bags (877%).
The BLM Effect
All of the luxury brands iPrice Group recorded saw an increase in Google search impressions after the coronavirus spread. It is important to note, however, that even though Prada (27%) and Gucci (70%) saw a rise in search impressions, these brands recorded two of the lowest increase percentage. This could potentially be an effect of the backlashes these brands received from the recent #BlackLivesMatter movement. After all, a recent by GlobalWebIndex showed that 4 in 5 people believe that brands shout take action with regards to this movement. The survey also showed that Filipinos had a higher than average support for the brands that take action. Meanwhile, #BLM has spurred movements across Southeast Asian countries, such as Indonesia's "Papuan's Lives Matter" movement, Malaysia's numerous online discussions on police violence against Indians, and local events in Vietnam that support BLM.
Watch Game Strong
Southeast Asians are also still looking into investing in luxury watches. Swiss luxury watch brand, Rolex, received an increase of 160% during this period. Additionally, Tudor increased by 51%. A New York Times article mentioned that both of these Swiss brands put their product news indefinitely on hold due to the disruption caused by the pandemic. But with SEA's increased interest, the future of these Swiss watches, albeit uncertain, might not be so bleak.
SEA Consumers Are Also Interested in Sportswear Giants That House Luxury Sneakers
Now, you're probably wondering why iPrice Group included the search impressions of fast-sportswear fashion brands like Nike and Adidas along with the luxury items. Two reasons: 1) this gives us an idea of how fast-fashion brands' impressions are fairing compared to luxury brands, and 2) we can also see if SEA consumers are still interested in the luxury sneakers that these brands house.
Unsurprisingly, Nike had a soaring increase in impressions of 605% while Adidas increased by 577%. iPrice has a number of hypotheses on why these brands saw a large percentage increase. First, athleisure has been a growing trend in the past few years. It comes as no surprise that people are still interested in investing in sportswear fashion. Lastly, people try to become more physically active as they battle the everyday tedium of staying at home.
With luxury items experiencing an increase in Google search impressions, it is expected that luxury sneakers, Yeezy and Air Jordans, had the same fate. The Kanye-inspired kicks' Google impressions increased by 181%, while the classic Air Jordans' increased by 44%.
Can the Fashion Industry in Southeast Asia Survive the New Normal?
Brick-and-mortar retail stores are closing shop one by one, which is inevitable due to the losses incurred from lockdowns. However, this doesn't mean that fashion brands will meet their slow and painful demise. Without these brands' investment and costs from managing physical stores, they can invest in their online assets instead. As proven by the aforementioned study, the interest is still there. SEA consumers are still searching for luxury and fashion items despite the worldwide pandemic. It's just a matter of where the interest is located; in this case, the interest moved from physical to online platforms. If anything, there is a bigger demand for online stores these days due to the new normal. That said, if fashion brands learn to adapt to the situation and invest in their online assets, there is great potential that they can keep up with the new normal.
Methodology
Search interests were gathered from Google's impressions on luxury brands and product categories in iPrice's platforms. The increase in searches was taken from the period of January 1, 2020 – March 1, 2020 and May 1 – June 30, 2020.
About iPrice Group
iPrice Group is a meta-search website operating in seven countries across Southeast Asia namely; Malaysia Singapore, Indonesia, Thailand, Philippines, Vietnam, and Hong Kong. Currently, iPrice compares and catalogues more than 1.5 billion and receives about 20 million monthly visits across the region. iPrice currently operates three business lines: price comparison for electronics and health & beauty; product discovery for fashion and home & living; and coupons across all verticals.