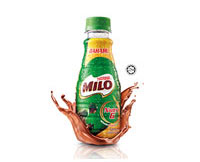 In an earlier blog in March 2015, I mentioned about the potential for RTD drinkable oat in Malaysia. Nestle recently introduced a product similar to what I have in mind. The Milo Nutri G is a chocolate malt drink. What makes it different from other Milo in can or paper carton is the addition of four whole grains. Here is the official product description on the Nestle website:
"With a wholesome selection of 4 whole grains: oats, barley, brown rice and wheat, perfectly blended with PROTOMALT®, milk and cocoa for a rich, delicious goodness that will fuel you towards all that you can be."
The key point is Milo Nutri G has been added with four whole grains: oats, barley, brown rice and wheat. The 190ml drink is a pick-me-up energy-giving drink for people on the go or as a meal replacement.
Even though it claims to have four whole grains. Milo Nutri G tastes like a Milo albeit with a thicker taste, which is probably attributed to the four whole grains in hydrolyzed whole grain liquid form. Since it is in liquid, there is no need to chew and this makes the drink unexciting. This is one key drawback for Milo Nutri G.
The second drawback is the price. At RM 3.60 in 7-Eleven, Nutri G is considered expensive given the fact that one can purchase a 200ml Milo in paper carton from the same store for RM 2.20. As a consumer, I would rather purchase a Milo in paper carton and a sweet bun (RM 1) and the total cost is only RM 3.20. This Milo-bread combination is also more filling.
The expensive price and a rather similar taste to the ordinary Milo make Milo Nutri G a product that does not have a unique selling point. Yes, it claims to provide a wholesome energy but consumer cannot feel the existence of wholegrain in the drink since it is in liquid form. Adding something that can be chewed does make a whole lot of difference.