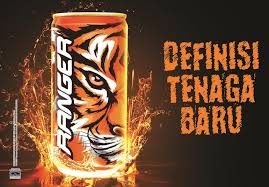 The first impression is wow! The packaging design of the new energy drink from F&N is outstanding. Ranger is a continuation of F&N's move to tap into the resources of its new parent ThaiBev to fill its gap in the Malaysian soft drink portfolio. Ranger is an energy drink under the ThaiBev stable. So far, three ThaiBev soft drink brands have been introduced in Malaysia – Oishi RTD tea, Est carbonated soft drink and now, the Ranger energy drink.
Ranger is also a long-time making for F&N after it loses its five-year exclusive distribution rights on Red Bull on 31 March 2015.
The Ranger currently sold in Malaysia is made in Thailand and comes in a 250ml can format. Ranger is priced at RM3.20 at Petron Treat convenience store, slightly cheaper than a similar 250ml Red Bull, which is selling at RM3.40.
Based on the store check in one of the Shell petrol station convenience stores in KL, the RM3.20 Ranger is priced between Red Bull and Power Root. At the moment, Ranger is still not available at 7-11 and only available at selected petrol stations, supermarkets/hypermarkets and other retail establishments.
Ranger placed next to Red Bull at Petron
Ranger at Aeon Big hypermarket – RM 2.55 per can