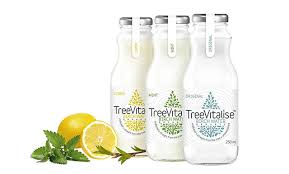 Plant-based beverages such as birch and maple water were strongly featured at the Speciality & Fine Food Fair 2015 in London Olympia on 6-8 September 2015. These birch water is essentially 'lower sugar' alternative to coconut water with a taste similar to ordinary water.
TreeVitalise birch water comes in three flavours – original, mint and lemon. TreeVitalise explains the benefits of birch water:
"Birch sap is a traditional drink in many parts of Eastern and Northern Europe and Russia, where it has been tapped and enjoyed for centuries as a good-for-you and pleasanly refreshing drink. In the old days it would have been the first nutrient-rich  nourishment available to the locals from nature itself after a harsh and long winter.
It was known to stimulate the body's purifying and cleansing systems as in its raw form the sap contains vitamins, enzymes, antioxidants, trace minerals, escpecially manganese, and also micronutrients unique to the birch tree, which were said to help strengthen the immune system, lower cholesterol and assist with weight loss." Link
Sibberi birch sap water, photo taken at Speciality & Fine Food Fair 2015
The UK birch tree sap brand Sibberi taps trees in Latvia, Ukraine and Belarus. The company has recently penetrated Hong Kong, a market often serves as the test bed for new products and a gateway to China. See its HK Facebook site: https://www.facebook.com/sibberihk
Amazing Forest Limited/Mexpi Limited is another birch sap water exhibitor and the organic birch water comes from Belarus.
Mexpi Ltd booth, photo taken at Speciality & Fine Food Fair 2015
Coconut water is already in China. The question is will birch water make it big in China? At the moment, birch sap water can be bought in the country and is sold under the name 桦树汁 but it is still relatively unknown.
桦树汁
A search on the Internet reveals there is a birch water project in Tongjiang (同江) in northeast China's Heilongjiang province seeking investment. Tongjiang is located on the right banks of the Songhua and Amur Rivers bordering Russia. The total investment is CNY65 million (USD 10 million) and the estimated annual turnover is CNY16.5 million. The annual output capacity is 30,000 tons of birch water. There are about 20.7 million hectares or birch trees in Tongjiang.
Heilongjiang-based Yichun Jinqiu Natural Beverage Co., Ltd. (伊春锦秋天然饮品有限责任公司) is one of the companies in Heilongjiang province that produces birch water. I did not come across birch water when I was in Harbin.
Another birch tree producer is Jinlin Hanlao Ji Food Co., Ltd. (吉林市憨佬吉食品有限公司)  and its product is the lychee birch tree drink.
As for the imported birch tree water, Finland's Nordic Koivu is available on sale on CCTVmall.com. The price for a 500ml bottle is CNY333 (USD 52) !
Orignal imported from Finland – CNY333 per 500ml bottle
As birch water is usually made by small companies in China, unless the big local beverage players start to invest in birch water, it will be hard to popularise the drink. The problem is also compounded by the fact that the taste of birch water is quite similar to water and the authenticity cannot be verified with the tongue alone. However, opportunities do exist for Western companies who can market this as an exotic upmarket health beneficial drink but do keep the price below the CNY333 per bottle mark to make it more affordable. Birch tree water can be positioned as the ultra premium water with prices higher than imported premium water or local high-end water.