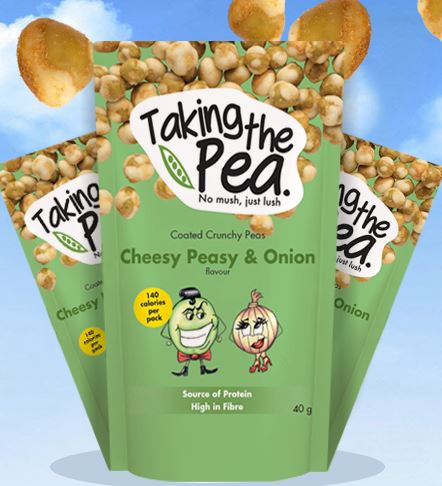 Saw a very familiar product at the Specialty & Fine Food Fair 2015 (6-8 September 2015) in London Olympia. That product is none other than the humble pea. Pea is an all too common snack in Asian markets. But in the UK, apparently, pea is a newcomer and is positioned as a healthier snack to crisps. It is a source of protein and high in fibre.
The four key flavours under the Taking the Pea line are smoked ham, wacky wasabi, sweet chilli salsa and cheesy peasy and onion. All the flavours, with the exception of wasabi, can be found in crisps. The only thing, which is obviously missing is original flavour – salted green pea.
The colour of the pea is pale brown, a clear sign that it has not been added with colouring. Notice the colour difference between Taking the Pea and the made-in-Malaysia green pea. It is really bright green for the Malaysian green pea. For exporters from Malaysia looking to penetrate the UK market, your bright colour green pea will put you in the same league as junk food.
Photo taken at Taking the Pea booth at Specialty & Fine Food Fair 2015.
Made-in-Malaysia fried green peas