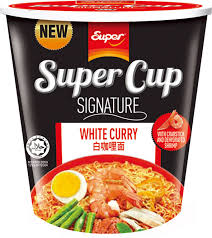 Super has introduced the Super Cup Signature white curry noodle in the cup format in Malaysia. The white curry noodle comes with dried shrimp and crab stick. Also in the Signature range is the new sesame chicken flavour cup noodle. The white curry noodle sells for RM3.35 per 98g.
Aeon Vegetarian Flavour Noodles – Photo taken at Aeon Big Cheras Selatan
Aeon private label range Topvalu has made available Vegetarian Flavour Noodles and Curry Flavour Noodles in cup. Each 60g cup noodle retails at a price of RM1.50. The noodles are made by Pacific Food Products Sdn Bhd, the same company that produces Mamee instant noodle.
Aroi white curry noodles – Photo taken at Aeon Big Cheras Selatan
Back to the white curry noodle story, Aroi has a new product (or new packaging?) Penang White Curry Soup Noodle (right). The difference between the earlier one is the addition of the word 'soup.' Both are selling at the same price of RM7.25. The one of the left is Penang Traditional Dry White Curry Noodle, while the one on the right is the soup-based noodle.
Aroi has entered Thailand with product sampling activities in local supermarkets including Tops. The company has also produced white curry in cup and will be launching it soon, according to its Facebook posting on 23 July 2015.
Voted product of the year – Photo taken at Aeon Big Cheras Selatan
Maggi Korean Spicy Braised Beef Flavour now comes with the "Voted Product of the Year," Mamee Chef Mi Kari Seribu Rasa is another winner following an extensive survey conducted by Nielsen Malaysia on more than 2,000 consumers.
Finally, Maggi has unveiled the premium MAGGI Letup Kari Cili Api dan MAGGI Letup Goreng Kari Berasap. They come with explosive taste of chili. The key ingredients are "pure extracts of fiery red, dried chillies and real curry spices to flare up your taste buds".
Here is the existing non-premium version.