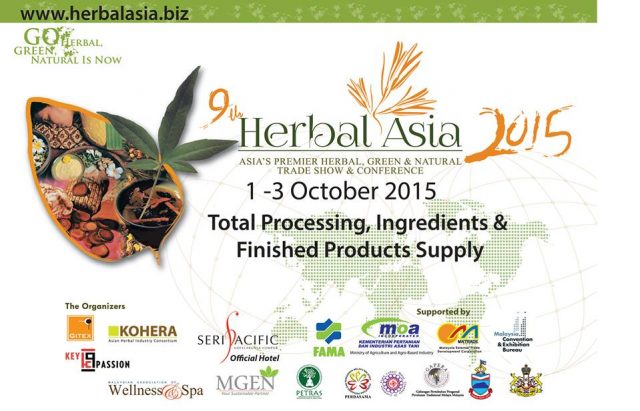 The 9th Herbal Asia 2015 fair at Matrade in October 2015 has revealed several interesting new product trends. Food ingredients from the Sunnah Diet, which is the eating habits of Prophet Muhammad, has a strong influence on new product development at the latest Herbal Asia trade show in Malaysia.
The key ingredients of the Sunnah Diet are:
– Dates (kurma)
– Honey
– Olive oil
– Watermelon
– Grapes and raisin
– Milk (goat's milk)
– Water
The honey products showcased at Herbal Asia are functional with added health-beneficial ingredients such as tongkat ali and kacip fatimah. Products are also gender specific. For example, the King Honey range comes in three products namely King Honey Power Man with tongkat ali, traditionally used as an aphrodisiac, King Honey Kick Woman with kacip fatimah, the female equivalent of tongkat ali, and King Honey Mudu Ruqyah with 30 Juzuk Al-Quran, a product that has been given the Quranic prayers.
The Masyi QS Honey by Masyi Resources Sdn Bhd comes in the convenient tablet form with chocolate, strawberry and orange flavour and honey in sprayable cansister. The products claim to improve memory, increase the energy levels and good for health.
Date is a popular food ingredient and is often marketed as a food supplement. Date juice or jus kurma of D-Warisan is positioned as a herbal drink and contains not only date but also betel leaf and habbatus sauda, known as the "powerful remedy for each & every disease except death."
The nrbasshirah Khall date vinegar comes in the ready-to-drink juice in sachet format. Each sachet weighs 10 grams. The drink contains a mixture of honey with palm vinegar, virgin coconut oil and habbatus sauda.
The Srikandi supplement for women by Sirehemas Marketing Sdn Bhd is formulated with date concentrate, betel (sireh), manjakani, habbatus sauda, kacip fatimah, marine collagen, mas cotek (mistletoe fig), pueraria lobata (kudzu) and serapat.
Daralia VCO
Aniera virgin coconut oil
Consumers are rediscovering about the health benefits of virgin coconut oil (VCO). In a country where coconut is abundant, it is strange to see coconut oil no longer being used as the government-driven palm oil policy has elevated palm oil as the edible oil of choice. With heightened health awareness, VCO is now back in the form of VCO-based cosmetics and personal care products or eaten as food supplement.
Cocomune VCO by the Malay Tea House has a booth displaying food and industry grade VCO. Most of its VCO is exported to Japan but the company is seeing growing sales of VCO among local consumers who now realised the benefits of VCO.
Another product that grabs the attention is the instant noodle with a touch of saffron. The instant noodle is produced by Qurba Food Manufacturing Sdn Bhd based in Kedah and comes in two flavous tomyam and sambal.
Other products at Herbal Asia included:
– Coffee with cinnamon, ginger, clove and tunjuk langit (sky fruit)
– Roselle and noni drinks
– Betel-based soap
– Hibiscus shampoo
– Energy drinks with tongkat ali extract, dates and pomegranate
– Kombucha tea
– Sakura White whitening candy
– Sabah snake grass herbal tea and botanical drink
– Tongkat ali health supplement such as Nu-Prep
Remedi Aqif Xtra Boost energy drink with tongkat ali, pomegranate and dates
The products at Herbal Asia were predominately for the Malay market. They revealed a growing interest among the Malay population for food based on the Sunnah diet, which means more food targeting at the Malay segment will incorporate Sunnah ingredients such as dates, goat's milk and honey.
Malaysia – source: Google Trends as of 7 October 2015
Malaysia – source: Google Trends as of 7 October 2015