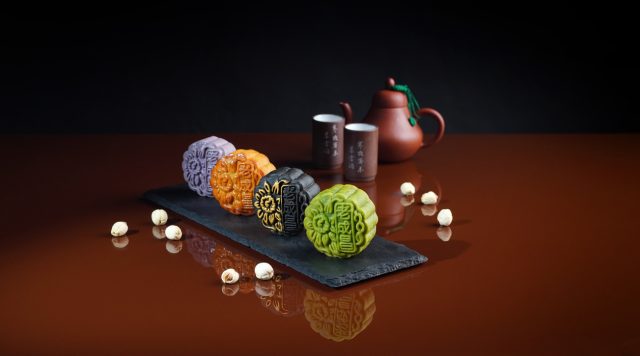 福满中秋,月满团圆 – Rekindle the warmth of reunion and harmony with Old Seng Choong's traditional mooncakes with a twist of local flavours
Singapore, 04 August 2023       Old Seng Choong, founded in 2016 as homage to the well-known Seng Choong Confectionery of the 60s, is sought for its traditional bakes and cakes, and has become a must-stopover for perfect treats for every joyous occasion. The love for treats is dialled up when the highly anticipated annual Mid-Autumn Festival returns this year. Old Seng Choong celebrates the festival with a unique selection of new exquisite flavours like Yam with Olive Kernel and Pandan Pulut Hitam alongside some of the classic favourites brought back by popular demand.
 The Mid-Autumn Festival, Zhong Qiu Jie (中秋节 in Mandarin) is a traditional festival celebrated in the Chinese culture, takes place annually on the 15th day of the eighth month in the Chinese calendar. The tradition originates from the end of the autumn harvest when families gather under a full moon to celebrate and express gratitude for a bountiful harvest.
The highlight of the celebration is mooncake, a round pastry made with red bean or lotus seed paste wrapped by a layer of golden-brown baked crust. Mooncake symbolises family reunion and harmony, and it encapsulates the essence of this occasion and is commonly given as a gift to express best wishes and love.

Old Seng Choong's Four Heavenly Kings (四大天王)
Mooncakes are special at Old Seng Choong, much like how every single pastry is lovingly made by Chef Daniel Tay and his team. Their creations live up to the Old Seng Choong name in preserving traditional flavours while keeping up with the pace of modernisation. Every mooncake captures nostalgia, heritage, and joy of the festival while infusing new elements that excite the taste buds, Old Seng Choong consistently innovates to ensure a familiar yet unique Mid-Autumn experience every year.
Yam with Olive Kernel 芋泥榄仁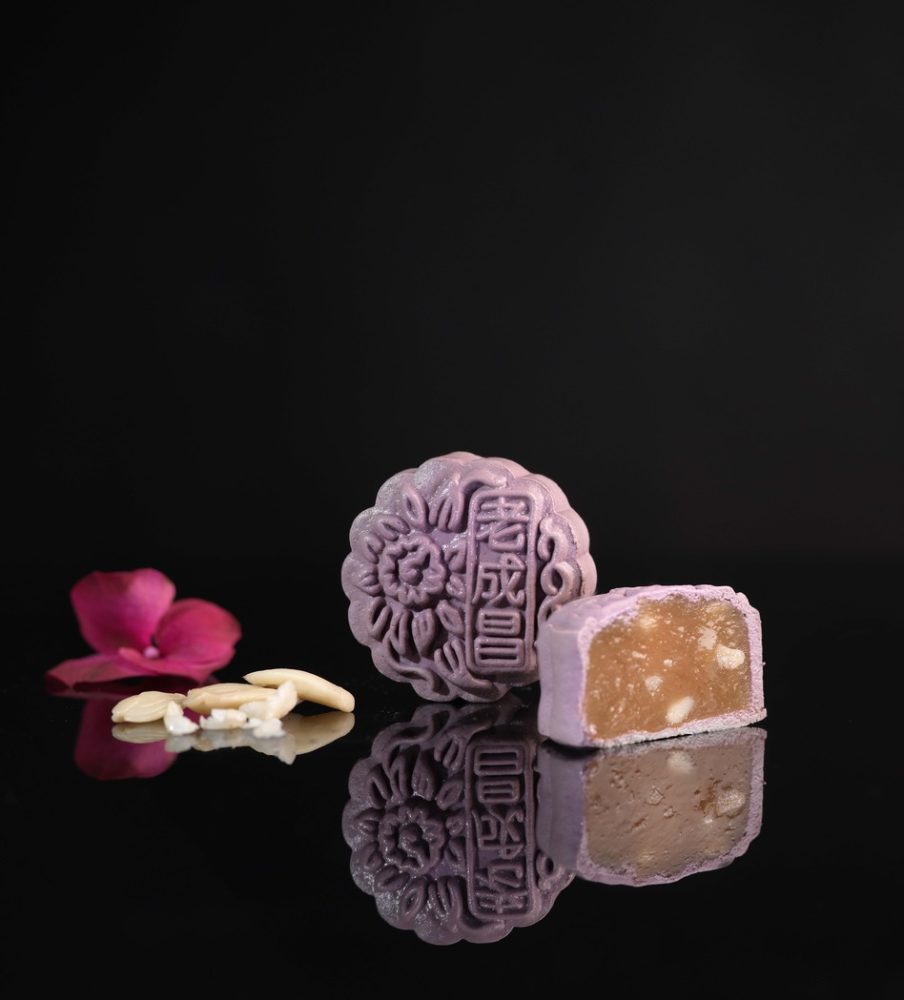 Perfectly smooth yam paste with a subtle burst of nuttiness from the olive kernels, this brand-new flavour is the ultimate combination for yam and nuts fanatics.

$68.80 per box of 8 pieces
Pandan Pulut Hitam 香兰黑糯米
The refreshing aroma of pandan leaves infused with a rich and velvety pulut hitam filling, this is the absolute indulgent when one craves for a local sweet treat. 
S$66.80 per box of 8 pieces

Black Truffle Bak Kwa 黑松露肉干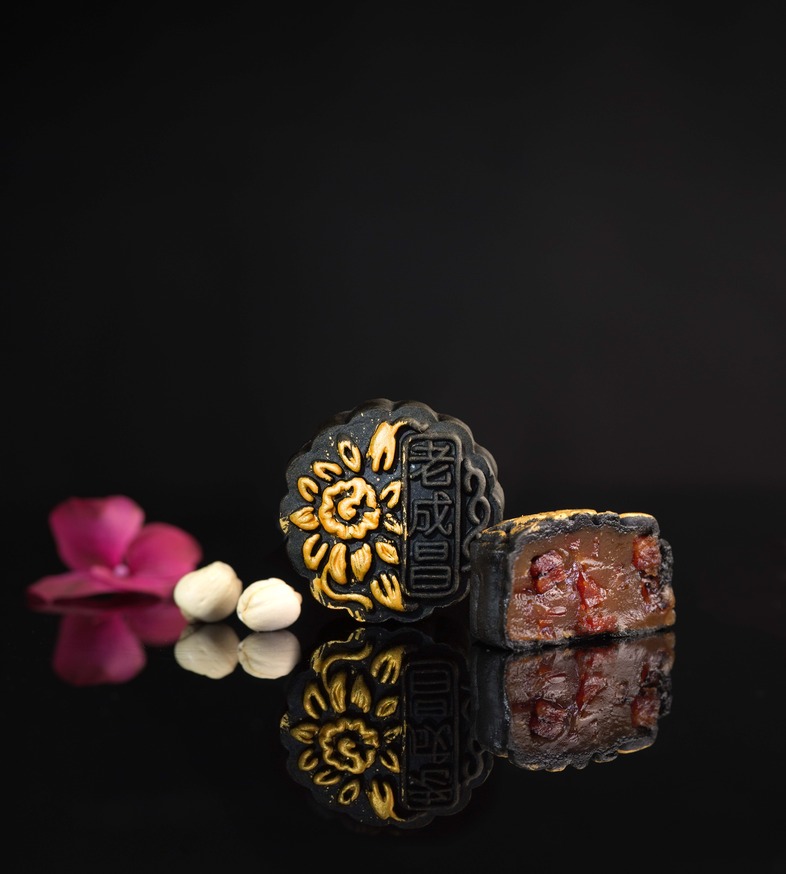 Combining the succulent tenderness of smoky bak kwa and the luscious red lotus paste infused with premium black truffle oil, this all-time favourite will bring one through a gastronomic experience with every bite.
S$86.80 per box of 8 pieces

White Lotus with Yolk Blend 白莲蓉蛋黄馅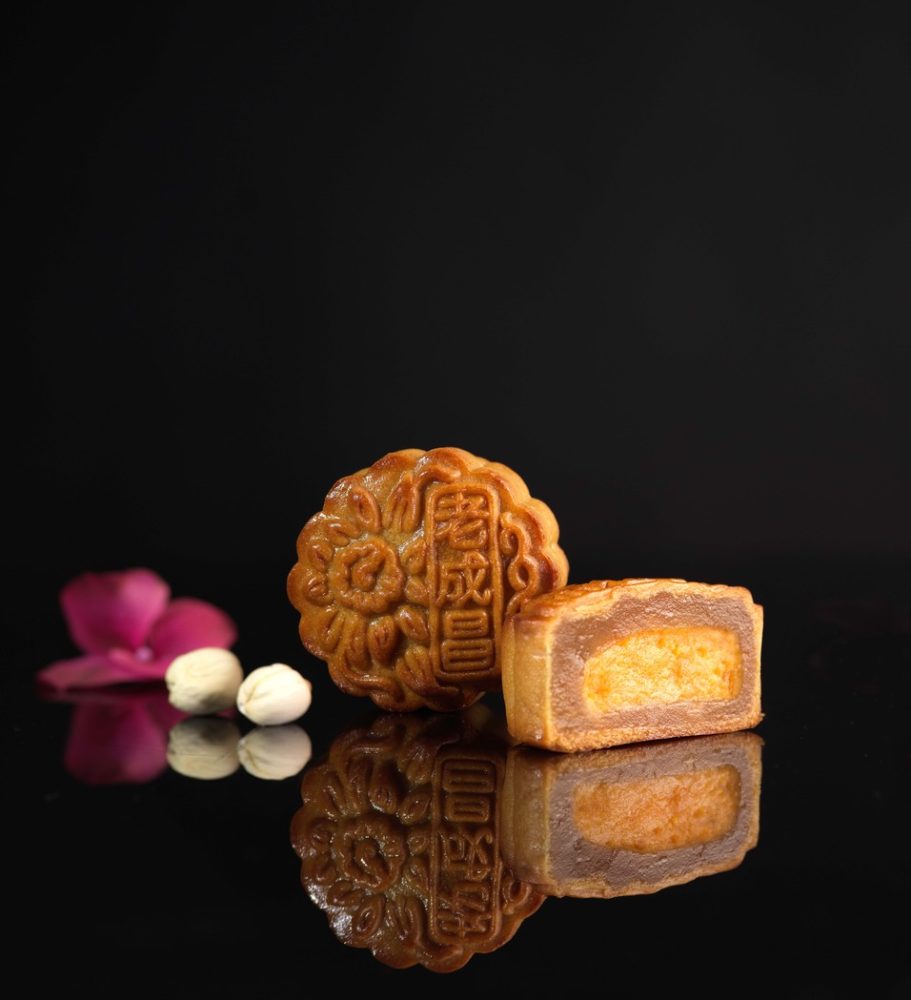 A delicate harmony of sweet and savoury, the creamy OSC signature yolk blend perfectly balances out the sweetness of the lotus paste, making this one of the most popular flavours amongst mooncake lovers.
S$68.80 per box of 8 pieces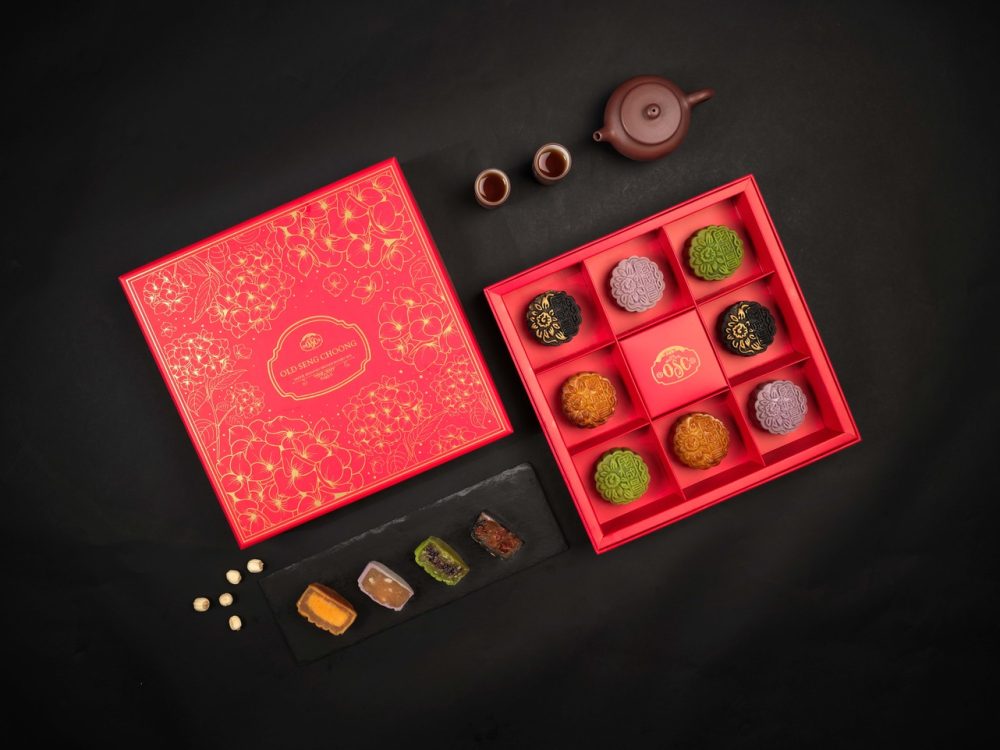 For the best of all four worlds, the Four Heavenly Kings (四大天王) with two of each flavours are available at S$72.80
The remarkable flavours of Old Seng Choong are stamped with the elegant hydrangea flower symbolising unity and harmony reinforcing the wish for consumers to embrace the spirit of togetherness and rediscover the joy of shared moments during the Mid-Autumn Festival. The choice of vibrant and festive colours is also one of Old Seng Choong's mooncakes' most distinct and novel innovations as these are typically seen on snow skin mooncakes and are harder to achieve on traditionally baked mooncakes. Every aspect of each mooncake variant design is carefully thought through and crafted. No detail is too small when so much passion goes into the baking of Old Seng Choong's creations. 
The Old Seng Choong mooncakes are available for pre-order from 1 August 2023 and will be ready for collection in-store from 15 August 2023. Enjoy a 20% early bird special for orders placed between 1 August 2023 to 7 September 2023.
Old Seng Choong's Retail Outlets:

 

The Shoppes at Marina Bay Sands

2 Bayfront Avenue #01-72

Singapore 018972

Mon to Sun – 11am to 10pm

 

Paragon Shopping Centre

290 Orchard Road #B1-14

Singapore 238859

Mon to Sun – 10am to 9pm
For more information and updates, please visit Old Seng Choong's official website and social media pages: 
About Old Seng Choong
Founded by renowned local pastry chef Daniel Tay, Old Seng Choong offers traditional bakes and cakes to celebrate every joyous occasion.
This eponymous new concept is especially poignant for Daniel Tay, who created it as a tribute to his father, a baker, and confectioner for over 30 years. It is named after the well-loved Seng Choong Confectionery, established in 1965 and run by Daniel's parents until its closure in 1996. 
Old Seng Choong pays homage to his father and the confectionery that sparked his culinary ambitions. The brand focuses on traditional festive treats to accompany every momentous occasion and celebration in life. 
Aside from rolling out seasonal items for calendar events such as Mid-Autumn Festival and Chinese New Year, Old Seng Choong will also launch old-school bakes with a more nostalgic slant
Photo Credits: Old Seng Choong