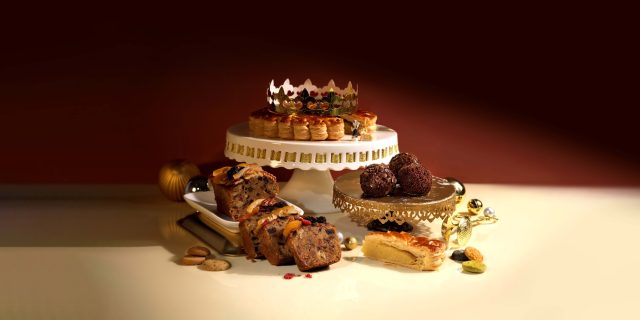 Well loved local bakery brings back festive favourites
Singapore, 08 November 2023  –  Family and friends gathered together, joyous laughter and chatter fill the atmosphere and a delightful spread of scrumptious pastries and desserts on the table eagerly waiting to be savoured after a hearty Christmas feast. This truly, is the most magical time of the year.
As the countdown to the year-end holiday season begins, Old Seng Choong is bringing back festive classics such as Galette des Rois, Brandy Fruit Cakes, and Rum Balls. Not forgetting their all-time-favourite cookies with a pleasant twist of distinctive flavours, Old Seng Choong's extensive selection of yuletide offerings will ignite the holiday spirit in everyone's hearts.
More than just a delectable pastry, the Galette des Rois, commonly known as the "King Cake", is a cherished tradition to conclude the end of the well-celebrated Christmas season. Within the golden, buttery puff pastry filled with fragrant almond frangipane lies a hidden treasure waiting to be discovered. Every slice served is filled with anticipation as the lucky individual with the hidden charm will be crowned "king" or "queen" of the day, adding a playful and whimsical touch to the occasion. 
A timeless masterpiece in the dessert world, the exquisite Brandy Fruit Cake is the perfect holiday indulgence. With every mouthful, it unveils a symphony of flavours from premium dried fruits that have been immersed in an exclusive brandy blend for an extended period of time. Adding on to the indulgent selection is another classic boozy delight, Rum Balls that come in sets of four. Loaded with luxuriously rich chocolate with a hint of warmth from the dashes of rum, this irresistible treat is also relished year-round by many.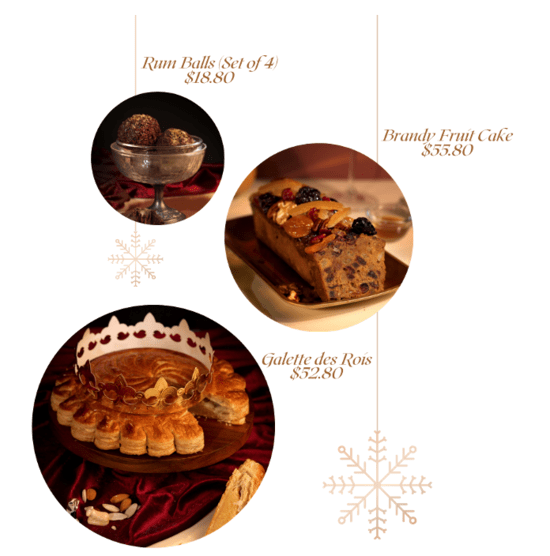 Christmas embodies the essence of giving and spreading love. This year, elevate the gift-giving experience with specially curated cookie flavours from Old Seng Choong's renowned signature collection, available in an elegant gift hamper.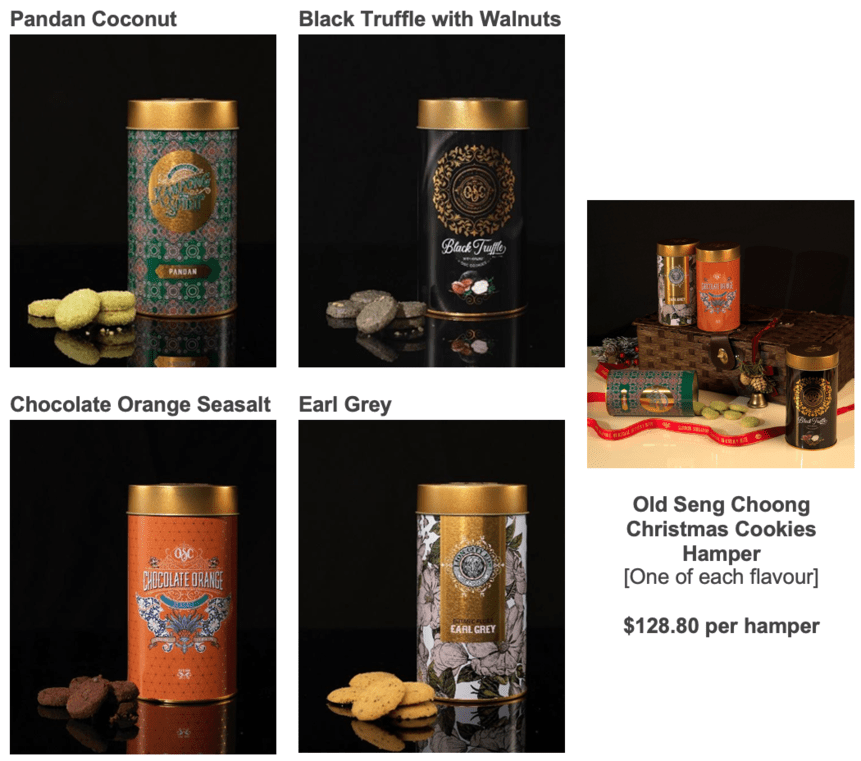 From now until 12 November 2023, enjoy the early bird promotion which offers a 20% discount on pre-orders of Old Seng Choong Christmas specials. From 13 November 2023 to 30 November 2023, a 15% discount will apply for all pre-orders. Collection begins from 1 December 2023.
Embracing the spirit of giving, Old Seng Choong's newest creations make for perfect gifts to loved ones or a splendid addition to enhance gatherings and parties. Savoury and creamy fillings enveloped in a delicate, lightly browned crust, the Truffle Mushroom Quiche and Turkey Bacon Cheesy Quiche offer a harmonious blend of textures and tastes.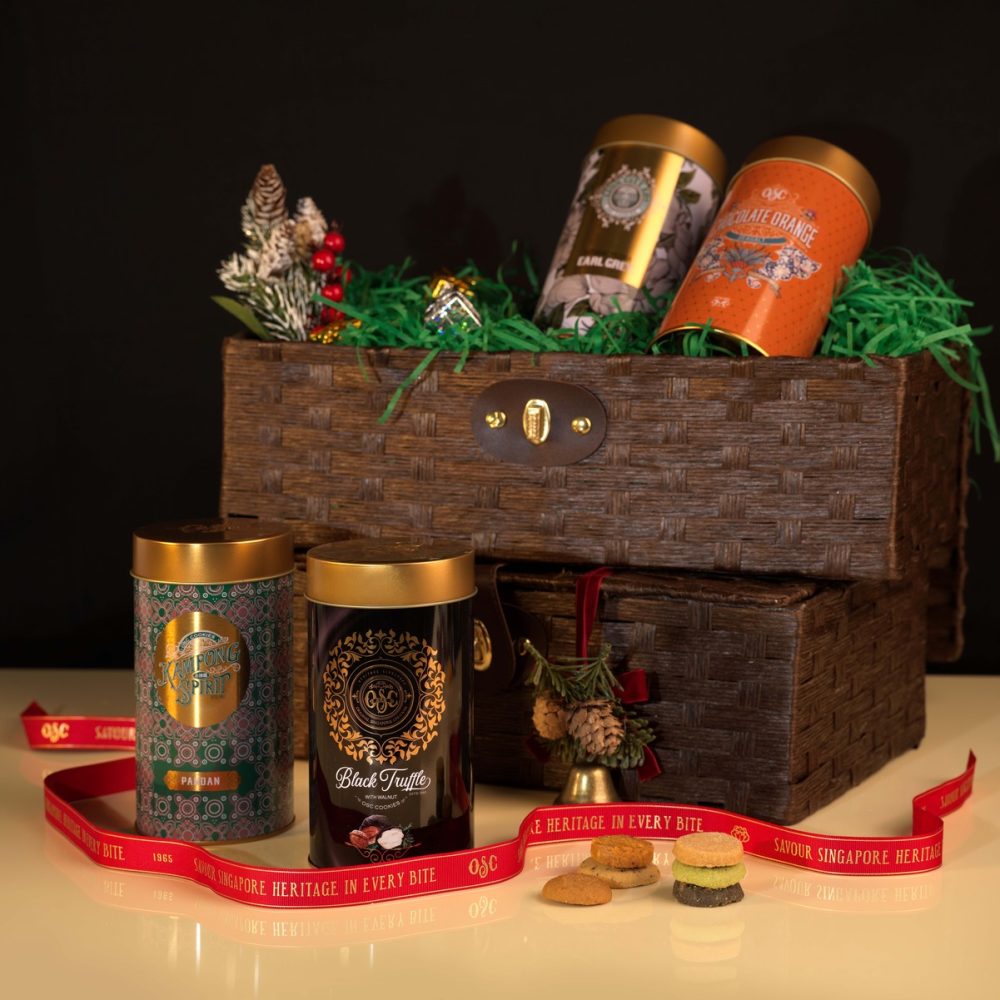 Luxurious packaging adorned with meticulous gold embossings, Old Seng Choong's latest Nanyang coffee and tea series is the epitome of sophistication while persevering traditional flavours. This exquisite collection comprises four aromatic variations, Kopi O Kosong, Kopi C Siew Dai, Teh O Siew Dai, and Teh C Siew Dai. Each of which complements any pastries and cookies perfectly. For a taste of all four flavours, the variety box containing two of each flavour is available at $12.80 per box too.
Old Seng Choong's Retail Outlets:

The Shoppes at Marina Bay Sands

2 Bayfront Avenue #01-72

Singapore 018972

Mon to Sun – 11am to 10pm

 Paragon Shopping Centre

290 Orchard Road #B1-14

Singapore 238859

Mon to Sun – 10am to 9pm

Changi Airport Terminal 2 (Transit)

60 Airport Boulevard, Transit Lounge #02-175/176

Singapore 819643

Mon to Sun – 6am to 1am

Changi Airport Terminal 4 (Transit)

10 Airport Boulevard, Transit Lounge North #02-50

Singapore 819665

Mon to Sun – 6am to 1am
 For more information and updates, please visit Old Seng Choong's official website and social media pages:
 ●      Official Website: https://www.oldsengchoong.com/
●      Instagram: https://www.instagram.com/oldsengchoong/
●      Facebook: https://www.facebook.com/oldsengchoong
●      TikTok: https://www.tiktok.com/@oldsengchoong
●      Xiao Hong Shu: 老成昌OLD SENG CHOONG