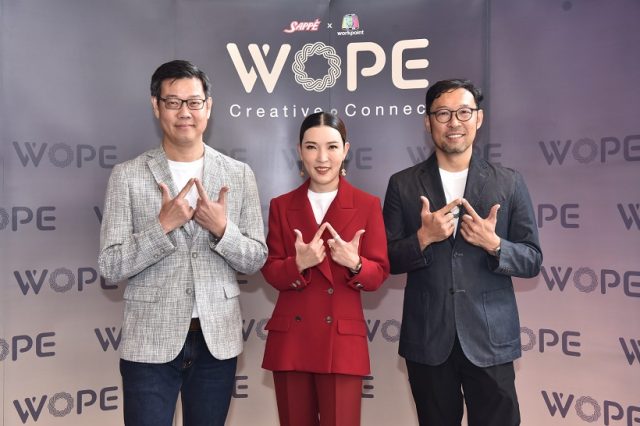 29 August 2022 – "Sappe Public Company Limited" has entered into a cooperation with Workpoint Entertainment (WORK) to set up "WOPE" to leverage the potentials of being the market leader for functional drinks and the leader in the field of media/entertainment in Thailand in preparation to penetrate the food and beverage market to support the trend of the new generation following the successful launch of 'Kru Pensri' chewy candy in two flavors last year, and to get ready to expand the product line and launching new products in Q4/2022. This is SAPPE's new partner that will help to further strengthen SAPPE along with its existing partners around the world to showcase the refreshing new marketing approach in the form of "Eatertainment" through Workpoint's delivery of entertainment through SAPPE's innovative products that will rely on the use of each party' unique expertise to build on and expand the customer base.
Ms Piyajit Ruckariyapong, Chief Executive Officer of Sappe Public Company Limited (SAPPE), revealed that on August 10, 2022, SAPPE's Board of Directors has approved Sappe Holding (Thailand) Co., Ltd., a SAPPE subsidiary, to join in a business alliance with Thai Broadcasting Company Limited (THB), which is a subsidiary of Workpoint Entertainment Public Company Limited (WORK) in a joint venture company named WOPE Company Limited that will develop, produce, market and distribute food and beverage products through innovation and communication that speaks directly to consumers, with Sappe Holding taking a 60-percent stake in WOPE, financed by the Company's internal cash flow, and THB holding the remaining 40 percent stake, representing a total investment of 50 million baht.
Mr. Dhanasak Hoonarak, Member of the Executive Committee and Chief Business Development Officer (CBO) of Workpoint Entertainment Public Company Limited,stated, "The success of Kru Pensri chewy candy that we tested in the market last year was the first time for Workpoint to apply the strength of our 'Character Assets' in the form of Kru Pensri, which is a character from the 'Hok Chark Krab – Jarn' sitcom as broadcast on Workpoint 23 channel to expand into a new line of business, such as in candies. This has allowed us to recognize the business opportunities that we can expand into in the food and beverage market. And as a result, we are investing in WOPE to expand the creativity of both organizations to make the venture even more fun and entertaining, so much so that we are planning to release the first new products under WOPE in the fourth quarter of this year.
"Workpoint's strong suit is that we have good media programming and communication channels that covers all platforms, both offline and online, that can access people of all genders and ages nationwide. At the same time, SAPPE specializes in producing innovative and quality products that are responsive to customers' demand. With the potential capability of both companies with expertise in different areas, I believe that this cooperation will result in the creation of new products that will excite the consumers more than ever."
Mr. Adisak Ruckariyaphong, Vice Chairman and Chairman of the Executive Committee of SAPPE, said that SAPPE, operating under the framework of WOPE, will take charge of product innovation throughout the supply chain in order to arrive at unique and differentiated products and to deliver these to customers both domestically and in CLMV countries. In the future, it is possible to expand the customer base to SAPPE customers in other countries if any of the products can meet the demand in those countries. On the other side of the equation, Workpoint will be in charge of communication and marketing to reach the customer groups and boost the interest in the products through various communication tools in Workpoint's arsenal. This is considered to be a scaling up on combined expertise and to learn from each other.
"We try to build on the assets of Workpoint, especially the characters that are already well known, such as Kru Pensri, to be used as communication tools for the products, or the products may incorporate the creative ideas originating from Workpoint as well. It is also possible to utilize actors associated with Workpoint to create entertaining gaiety, to add colors to the products to increase the entertainment value for customers. This is a new form of marketing communication that we call 'Eatertainment' that allows customers to enjoy Workpoint entertainment through high quality and innovative products created by SAPPE."
SAPPE CEO further added, "The overview of the food and beverage market in the country this year may not see growth as much as we have expected, even though strict measures restricting travels have been relaxed, the problems with inflation still remain that can directly impact consumer behavior that could result in a decline. Nonetheless, this exciting cooperation will help to add new product groups that are differentiated from the original product groups. This will help to create a novelty to the market and also to expand the portfolio of products in the country. The sales target for next year (2023), taking into account this collaboration, is 200 million baht from Kru Pensri candy group that is already in the market, plus two new product groups that will be released at the end of this year and early next year.
"Pursuing high potential business partnerships is one of the innovative strategies that we have always been working on, and the strength of the quality business partners that we have around the world have allowed us to continue to grow rapidly despite challenging situations. This collaboration with Workpoint will help to elevate the strength of both partners to the next level. The SAPPE team is always proud when a new business partner comes on board and join us to create great products together. This is especially significant when we have the opportunity to join hands with a talented team from outside of the food and beverage industry, whom we have always admired for their brilliant ideas and creativity," Ms. Piyajit said.