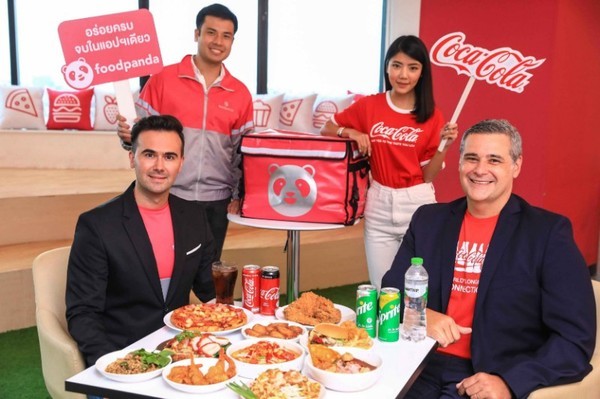 Partnership offers consumers delectable deals and special promotions to enjoy the best of both worlds.
Bangkok–14 Jul 2020
Bangkok, July 14, 2020 – The Coca-Cola system in Thailand, which comprises ThaiNamthip Ltd., HaadThip Public Company Ltd., and Coca-Cola (Thailand) Ltd., is joining forces with foodpanda to uplift consumers' spirits and offer delicious meals from foodpanda along with refreshing beverages from Coca-Cola delivered right to their doorstep. To celebrate the partnership, Coca-Cola and foodpanda will be launching special promotions and provide 30,000 discount codes from 3,000 participating restaurants, giving consumers moments of happiness with loved ones with quick, convenient, safe and delicious meals.
Mr. Carlos Diaz-Rigby, General Manager, Coca-Cola (Thailand) Limited said: "In the current situation, Thai consumer behavior has changed dramatically, and people have had to adjust their lifestyles in response to the new normal. Food delivery platforms, therefore, have become increasingly popular as their services are highly convenient and help raise the dining experience for people eating at home with their friends, family and loved ones. Coca-Cola believes that the business has immense growth potential and having a partnership with a leading platform like foodpanda will help both companies meet the changing needs and lifestyles of consumers and strengthen each other's business. foodpanda will be one of the key channels that provides consumers with a quick & easy access to a range of beverages from Coca-Cola, while also elevating the home-dining experience with a rapid delivery service, great selections of food – making the dining experience with friends, family, and loved ones all the more special."
Mr. Alexander Felde, foodpanda Thailand CEO, said: "We've seen more consumers turning to food delivery and exploring food options online as we enter a new normal. As Thailand's leading online delivery service, foodpanda is dedicated to bringing food lovers their favorite meals from local restaurants across the nation. foodpanda has recently expanded our services to cover 67 provinces across Thailand. Through our collaboration with Coca-Cola, foodpanda wants to deliver the best combination of delectable delights and refreshing beverages to our consumers across the country and make mealtimes an occasion to look forward to."
Under this collaboration, Coca-Cola and foodpanda will launch a series of campaigns, providing special experiences for Thai consumers to enjoy more delicious meals. The activities will include collaboration with artists, actors/actresses and influencers in organizing marketing activities with consumers under the campaign "Special Meal at Home" and also offering more than 30,000 discount codes (worth 30 baht each with limited number of code per day) when ordering food and Coke products with a minimum value of 150 baht or more at over 3,000 participating restaurants nationwide via the foodpanda application and website throughout July 2020.
In addition to marketing activities that will help provide happiness meals, foodpanda has also set up various precautionary safety measures. These include contactless delivery and an online payment service as well as enhancing the hygiene and safety procedures of staff to ensure that consumers stay safe and healthy while using foodpanda's services. Consumers and their loved ones can share delicious moments with beverages from Coca-Cola and the best value meals from foodpanda through the foodpanda mobile app, which is available for both iOS and Android, or by visiting www.foodpanda.co.th.
The Coca-Cola system in Thailand consists of Coca-Cola (Thailand) Limited as the brand proprietor responsible for marketing activities, and its two local bottling partners – ThaiNamthip Ltd responsible for 63 provinces around Thailand and HaadThip Public Company Ltd serving 14 southern provinces.
The Coca-Cola system in Thailand is the nationwide market leader for non-alcoholic beverages. In addition to Coca-Cola, the most valuable brand in the world, the Coca-Cola system's portfolio of beverages in Thailand includes Coke Original, Coke No Sugar, Coke Light, Coke Plus Coffee, Fanta, Sprite, Schweppes, A&W Root Beer, Minute Maid Splash, Minute Maid Pulpy, Minute Maid Vita Kids, Minute Maid Orange Fiber, Minute Maid Honey Lemon, Namthip, Fuze Tea and BonAqua.