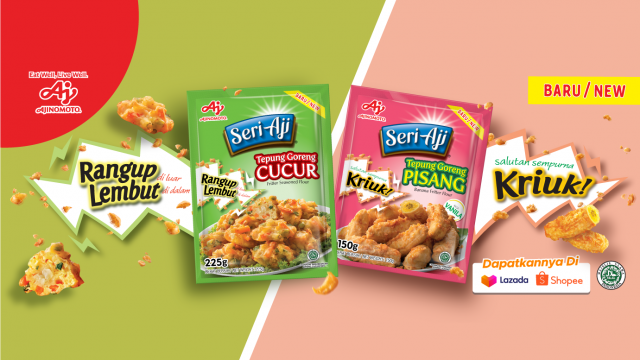 Ajinomoto Malaysia has launched Seri-Aji Tepung Goreng Banana Fritter Flour and Fritter Seasoned Flour.
Seri-Aji Fritter Seasoned Flour is complete with seasoning and spices to provide delicious fritter with crispy texture on the outside and soft inside.
Mix Seri-Aji® Fritter Seasoned Flour 225g with 325ml water and add preferred vegetables to deep fried.  Achieve perfect texture without need to alter the ratio of seasoning & flour.
It suitable used for vegetable fritter, prawn fritter and etc.
Seri-Aji Banana Fritter Flour is made from assorted flours to provide crunchy and appetizing fried banana with vanilla aroma.
Mix Seri-Aji® Banana Fritter Seasoned Flour 150g with 150ml water & coat banana with the prepared batter to deep fried.
It suitable used for fried banana, fried jackfruit and etc.
Click here to purchase on Ajinomoto official store on Shopee or Lazada.