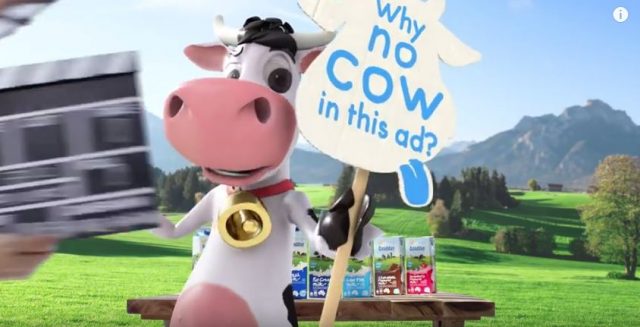 Here is a transcript of the latest TVC by Goodday Milk as part of the product's new packaging design. 
Cow: Skip the ad, don't skip the ad
Cow: Skip the ad, don't skip the ad 
Introducing the Goodday Milk with a fresh new milk
Cow: Excuse me, is this a milk ad? 
Yes, why?
Cow: Where is the cow?
Cut!
Malaysia's favourite pasteurised milk
Cow: This is cow's milk right? Why am I not in this ad?
Not again!
Goodday Milk, as fresh as it gets
So, "Why no cow in this ad", asked Dee Dee the cow.
"You might've seen me trying to sneak into Goodday Milk's latest advertisement. Luckily, Goodday Milk promised to feature me in their next advertisement if I can get 10,000 votes by end of Jan, so please vote for me everybody! I love y'all!"
As of 23 January 2015
The latest creative print and social media marketing campaign is aimed get consumers accustomed to the Dee Dee character as the face for Goodday Milk. The Goodday brand has been devoid of any interesting marketing in the past and this is changing following the revamped of the spartan packaging.
Dee Dee wants to be in the ad – photo by the author
Dee Dee is everywhere. It was in Bukit Bintang to generate the votes she needed to feature on the ad. The cow was also at Masjid Jamek and  KL Sentral getting all the attention she wanted.
Dee Dee Facebook page
There was a last minute appeal on The Star newspaper on 22 January 2016 where 'Help Dee Dee' was on the front page! There were Dee Dee's footprint everywhere on the newspaper asking readers to vote for her.
The Star – 22 Jan 2016
It is interesting to see how well Dee Dee is connecting with consumers going forward and not confusing them with another cow character by F&N Magnolia.
F&N Magnolia