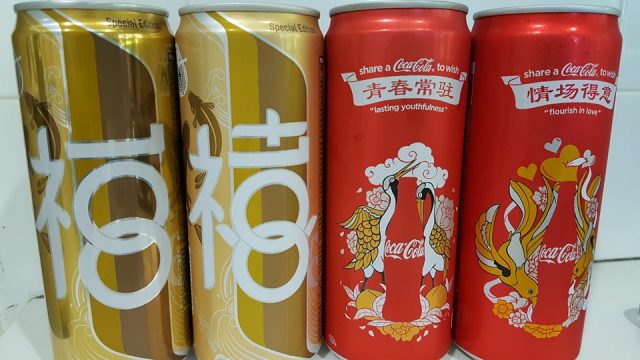 Chinese New Year marketing is all about symbolism and appearing auspicious. Here is a look at the 2016 CNY marketing by the leading FMCG companies in Malaysia. This year, F&N's 100Plus and Coca-Cola have renewed their contest to win the coveted title of best designed can of the year. Personally, I believe the award should go to Coca-Cola for its auspicious greetings and symbolism.
According to Hype Malaysia, the auspicious message and symbols on the 8 Coca-Cola Chinese New Year cans are:
Abundance In Wealth (财源滚滚) – Pineapples, Coins, Ingots
Lasting Youthfulness (青春常驻) – Cranes, Peach Buns, Plum Blossom
Benefactors Aplenty (贵人相助) – Ruyi Knot, Peach Blossoms
Prosperity In Business (生意兴隆) – Double Gold Fish, Water
Academic Success (学业有成) – Brush, Ink, Paper Scroll
Smooth Sailing Career (事业顺利) – Sail Boat
Flourish In Love (情场得意) – A pair of Magpies
Peace In The Family (合家平安) – Gourd, Stone Lions
100Plus opts for the auspicious creative Prosperity 福 and Happiness 喜 gold cans by blending in the Chinese words into the 100Plus logo like what Google always does with Google Doodle.
Below are the  CNY designs of Coca-Cola and 100Plus in 2015 . The 100Plus Prosperity 福 can is repeated in 2016 but is now more accessible. Previously, the limited edition, not-for-sale design was only available when you buy in bulk.
In 2016, apart from the limited-edition design, F&N'sDrink for Gold campaign is offering gold wafer,  gold coins and limited-edition gold plated 100Plus miniature cans.
As usual, Coca-Cola "share a Coke" campaign in 2016 comes with the personalised can activities.
Pepsi's Chinese New Year marketing "Refresh your Greetings" concentrates on getting the auspicious greetings right. The greeting associated with Pepsi is 欢乐百事 (huan le bai shi), literally known as happiness from 100 things, while 7-Up is 七喜临门 (qi xi lin men) or seven happy things coming to your doorstep. Noticed the Chinese name of Pepsi bai shi (百事) rhymes with Pepsi.
Pepsi goes one step further by personalising the greeting. On the http://www.pepsigreetings.my/ website, you can pick the greeting featuring the character of your surname. Even if your surname is one of the least well known such as 谭 (tan), you will still get some pretty interesting greeting choices.
Carlsberg Malaysia goes for the 100Plus and Coca-Cola limited-edition can approach. Here is the official description of the 2016 Chinese New Year campaign:
Year of the Monkey, just another prosperous year? As a beer brand that strives to deliver the finest in everything it does, Carlsberg proposed a toast to Lunar New Year 2016 being "Probably The Best Year" (20一流–堪称最佳新年). Playing on the Mandarin and Cantonese pronunciation of the number '16' [Yī Liú] with the Chinese character "一流", refers to excellence, top notch or simply the best. 
Bringing to life the CNY campaign tagline – "Probably The Best Year" (20一流), Carlsberg, for the first time ever launched seven limited edition designs with the seven icons across its cans and big bottles available nationwide during this festive period. Definitely collectable items! It's also a meaningful way to share a drink which bestows best wishes to family and friends. 
Yeo's take of its CNY campaign is playing with words to deliver the prosperity and auspicious message. Yeo's rhymes with the Chinese word 越 (yue) or more. The resulting meaning is Drink (饮) more, prosper (旺) more. Of course, there are prizes up for grab.
The best name for a CNY campaign is still Tesco's Ong Mali (Ong 旺 in Hokkien means prosperity), while Mali is the Chinese's mispronunciation of mari, which is come in Malay. The meaning of Ong Mali is "Prosperity comes."