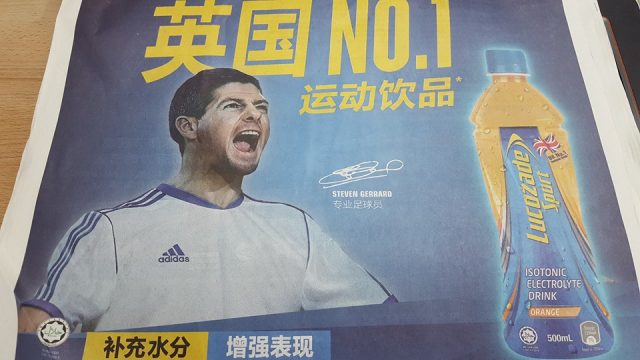 The English professional footballer Steven Gerrard is featured in the local print advertisement for Lucozade Sport in Malaysia. The Lucozade brand is known for being a partner of the England Rugby Team, the England Football Team and the London Marathon. Locally, the new sports drink is a sponsor of AMNIG I Am Warrior 10KM Run! and the TC Malaysian Squash Championships.
The Lucozade TV advertisement is now on air featuring Steven Gerrard. The ad highlights how Lucozade can enhance hydration and fuel performance for different sports such as swimming, marathon, football and cycling.
Lucozade's football marketing and the use of Steven Gerrard's image does make it go head to head with another new isotonic drink – Umbro. However, Lucozade's positioning is beyond football and has a broader appeal in the world of sports targeting both professional and amateur sportspeople. This positioning is narrower than 100Plus, which is considered a lifestyle drink and a sports drink. The sports approach of Lucozade will see it focusing more on the sports fraternity and 100Plus, the reining champion in the sports drink category, will not be resting on its laurel going forward.