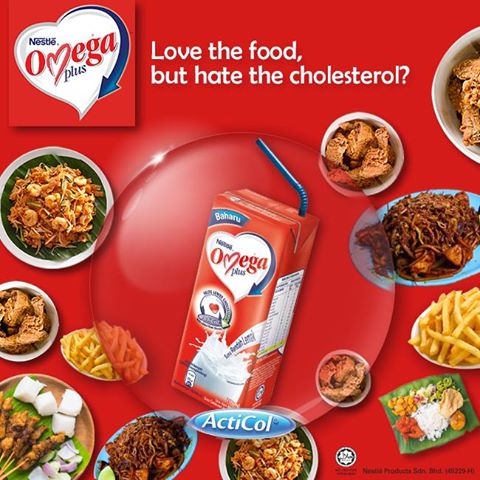 Nestle, is currently collaborating with Ho Chak! (好吃), a famous Chinese-language food hunting program on 8TV,  to promote the new Omega Plus milk in RTD format. The show introduces viewers to all the best eating spots in Malaysia. Ho Chak has been on air for several years and has a wide following.
In early 2016, the hosts of Ho Chak, Gary Yap and Orange, were roped in by Nestle to introduce the Festive Season Smart Eating Tips infographics and TV commercial during Chinese New Year. The aim was to encourage Malaysians to eat smart during the festive season and reduce the cholesterol level by drinking the new ready-to-drink (RTD) version of Omega Plus.
No longer satisfied with infographic, Nestle integrated Omega Plus into Ho Chak. Without a miss, the cholesterol-reducing milk will get a mention in the form of a reminder usually after the hosts introduced delicious food that tends to have high cholesterol.
"We have eaten so much, don't forget to drink Nestle Omega Plus"
"Don't forget to do one thing"
"You have to take care of your cholesterol level and don't forget to drink Nestle Omega Plus"
"Don't forget to drink Nestle Omega Plus"
"It contains plant sterol, ActiCol that can prevent bad cholesterol"
Omega Plus gets the end credit
This product placement strategy works well for Nestle Omega Plus. The message is simple. You can still enjoy food with high cholesterol and leave the cholesterol-busting work to Nestle Omega Plus.
All the screenshots are taken from Tonton.com.my