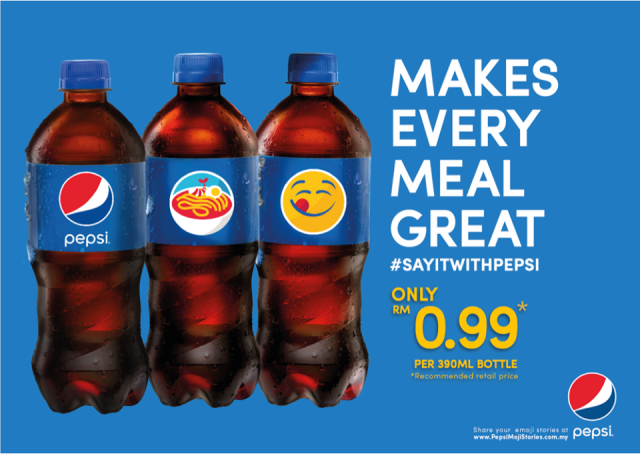 PepsiCo's emoji bottles have reached Malaysia as part of its global 'Say it with Pepsi' campaign. The emojis are visually striking and cool. One thing that stands out from the Malaysia version of the 'Say it with Pepsi' campaign is PepsiCo has finally strike back at Coca-Cola.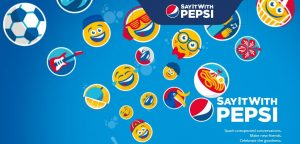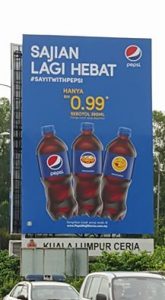 What is interesting about the emoji bottles are they come in the smaller size 390ml PET bottle with a suggested retail price of RM 0.99 (USD 0.25). Essentially, PepsiCo has at last launced an alternative to Coca-Cola's 390ml PET bottle, which comes with a retail price of RM 1.00. The RM 1.00 Coca-Cola was first introduced around late June 2015.
Nationwide launch but limited availability

Similar with Coca-Cola, the RM 0.99 Pepsi is available at 99 Speed Mart minimarket and selected provision goods stores (sundry shops) targeting consumers who are more price sensitive.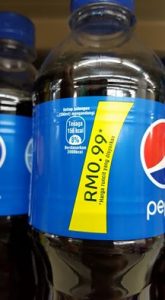 Coca-Cola does not advertise its RM 1.00 offering. PepsiCo, on the other hand, has made known to the whole of Malaysia through billboards and TV ad of the existence of RM 0.99 in 390ml emoji bottle. The RM 0.99 price tag is now forever associated with the emoji packaging.
Consumers who wanted to buy the RM 0.99 Pepsi will find it hard to  secure one because the RM 0.99 Pepsi is only available at select channels such as 99 Speed Mart. Hypermarkets, 7-Eleven and KK Mart are not stocking up on this product likely due to low profit margin. The lack of availability effectively reduced the effectiveness of the campaign
New Revive with i-HYDR8 System
In addition to the Pepsi in 390ml, the Revive isotonic drink also features a smaller 390ml PET pack with the same price as Pepsi at RM 0.99. Unlike the existing Revive, the new Revive has a new logo and the new i-HYDR8 System, which is comes with the tagline 'Cool the Core' for fast hydration. The 390ml Pepsi and Revive have heated the competition in the RM 1.00 price range as soft drinks makers go after volume to spur sales in a category that is reeling from health backlash.