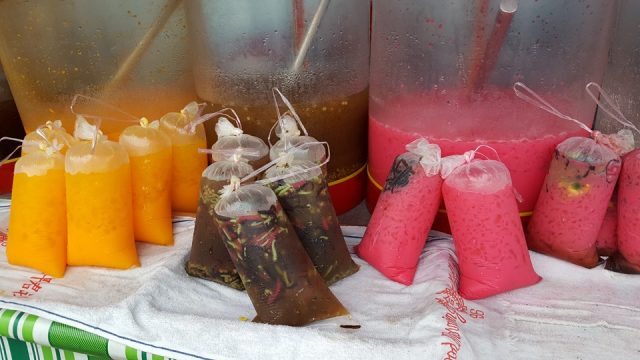 Let's visit the Ramadan bazaar in Bandar Baru Ampang in the state of Selangor to see what are the beverages consumed by Muslims during buka puasa (breaking of fast). These beverages could potential serve as inspiration for new product innovation.
Corn drink (air jagung) is a popular drink during hot day. It is made from cream corn in a can, condensed milk, a pinch of salt and sugar.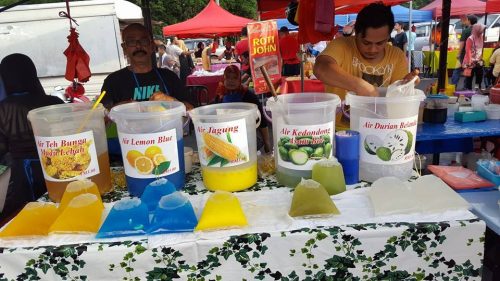 The chrysanthemum tea (air teh bunga) prepared by Malay vendors is different from the Chinese. The Chinese will filter out chrysanthemum flowers from the drink but the Malay vendors will keep the chrysanthemum flowers in the pack probably making it look more authentic?
For packaged chrysanthemum tea maker, retaining some chrysanthemum flowers in the drink could attract usage among Malay consumers.
Blue lemon drink (air lemon biru) is made from blueberry syrup, lemon juice and sparkling lemon. Some of the recipes use blue colouring, coconut water, lemon and sugar.
Kedondong Asam Boi drink (air kedondong asam boi) is made from kedondong (ambarella), which tasted sweet and sour, asam boi (sour plum), limau kasturi (calamondin), water and sugar.
Soursop drink is as the name implies is made from the soursop fruits.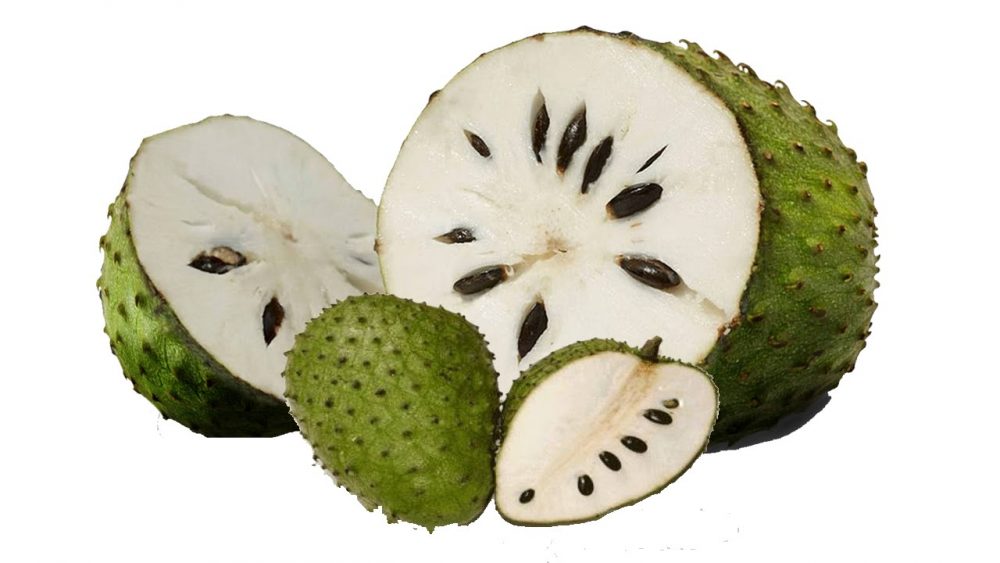 In another store, you can see a green coloured drink, which is called Tembikai Susu (honeydew). The rest are Asam Boi drink (sour plum), Blue Lemon and soya bean.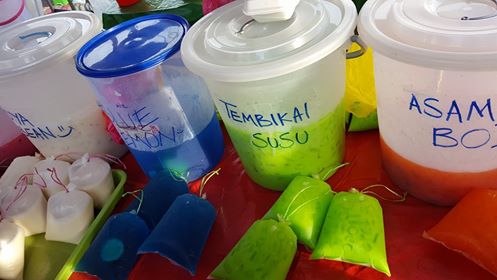 Mango drink is also hugely popular. The fruit is currently in season in Malaysia.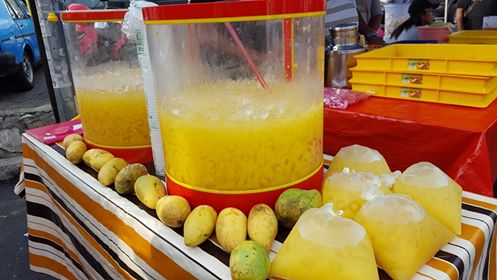 Next up, we have vendors creatively using Ribena to create the Ribena cocktail. Next to Ribena cocktail is strawberry cocktail on the right and original cocktail on the left. The Ribena bottle is placed next to the container to demonstrate the drink is really made from Ribena.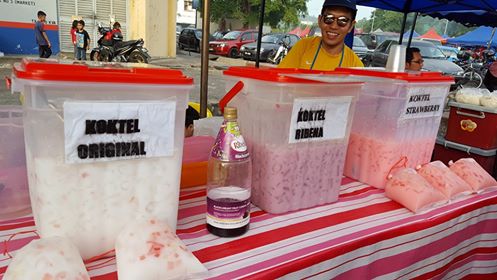 Moving on to the next stall, you will find yam drink (far right corner) in purple and on your right is Choco Malt Kaw-Kaw (Choco Malt drink that is kaw-kaw or more concentrated). Choco Malt in cup costs RM 2, while the plastic bag version is RM 3.
The watermelon drink is made fresh from real watermelon. Each pack without ice costs RM 5.50 and with ice is RM 4.50.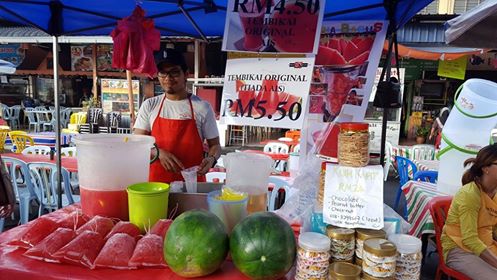 Green apple has also appeared in the drink menu (second from the right).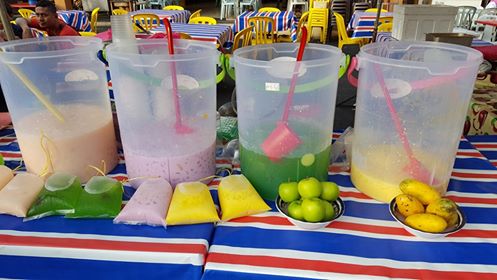 This stall below serves a wide variety of drinks ranging from yam drink (keladi), grass jelly drink (cincau) to seaweed drink (rumpai laut). Also sold but not appearing in the photo is longan drink (air mata kucing) and coconut water (air kelapa).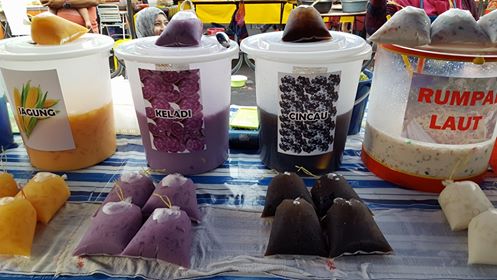 Len Chee Kang (Sweet Lotus Seed) is a Chinese drink made from lotus seed and a variety of other dried fruits. This drink is also popular with Malay consumers. We are seeing quite a lot of cross cultural borrowing in food in this part of the world.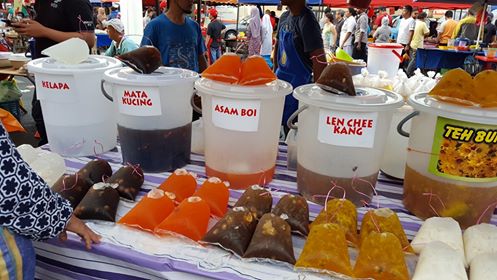 Grape juice is also sold in one of the stalls. The image is not presented here. Sugar cane drink is very common in Malaysia and is sold in large pack for sharing along with coconut water.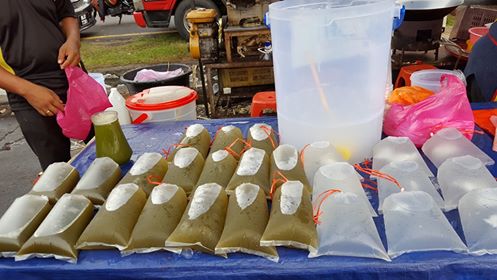 Cendol is a favourite dessert for Malaysians of all walks of life. This creamy dessert is made from coconut milk, green starched jelly noodles with pandan flavouring and palm sugar.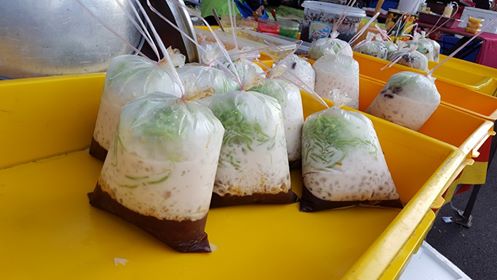 Finally, fresh goat's milk is promoted as the 'drink of choice of Prophet Muhammad.' Once again, we are seeing Muslim vendors using religion for product marketing.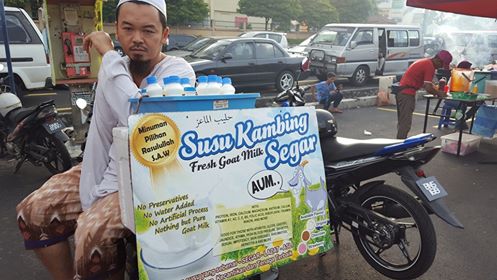 * All the images were taken and the copyright is owned by the author with the exception of the two fruit images taken from the web.