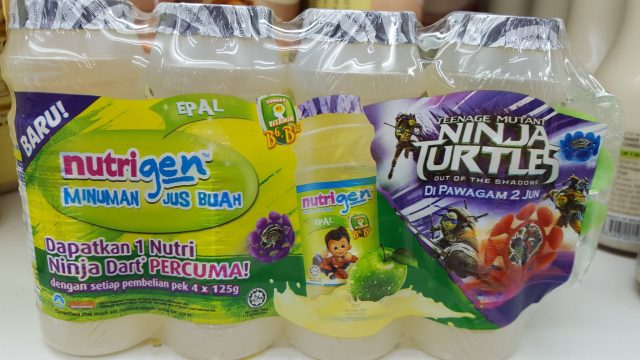 Mamee Double-Decker has unveiled a new children's juice drink under the Nutrigen brand. Each pack consists of four x 125g and is selling at a price of RM4.29 (USD1.05). Nutrigen Juice Drink comes in the choice of two flavours orange and apple. It claims to be a rich source of vitamin B6 and B12 (apple) and vitamin C (orange).
Mutant Ninja Turtles toys
Children's toys are included in each pack. The first game to appear is Ninja Dart in conjunction with the premiere of Teenage Mutant Ninja Turtles: Out of the Shadows movie.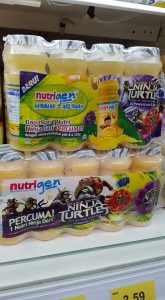 Identical bottle
The new Nutrigen Juice Drink uses the same bottle as Nutrigen Cultured Milk Drink but it only four per pack compared to five per pack for cultured milk. One key issue for the new juice drink is consumers may find it hard to differentiate it from Nutrigen cultured milk drink because of the use of identical bottle and identical toys.
Competitors
Nutrigen Juice Drink has to be refrigerated in the chilled section, which makes it probably the only chilled children's juice drink in plastic bottle in 125g format in the market. F&N Fruit Tree Fresh in 250ml plastic bottle is aimed at all ages, while Pran juice for kids is shelf stable juice in Tetra Pak.