Mamee DyDo Distribution Sdn Bhd is injecting the Nutrigen brand with a stronger Japanese element with the launch of the だいすき (Daisuki or Love It) Nutrigen campaign.
The Daisuki Nutrigen contest was held from 1 April 2018 to 15 May 2018 offering three grand prizes comprising a trip for two to Disneyland Tokyo Japan.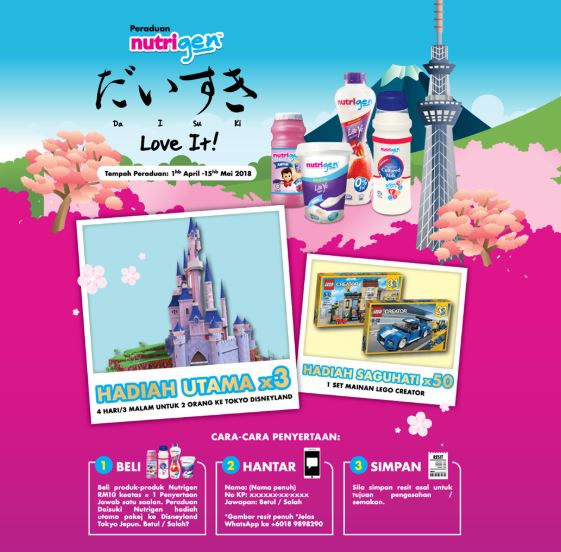 Nutrigen mulberry flavour
As part of the Daisuki approach, Nutrigen cultured milk has been added with a new mulberry flavour, which joins the existing less sugar and original variants.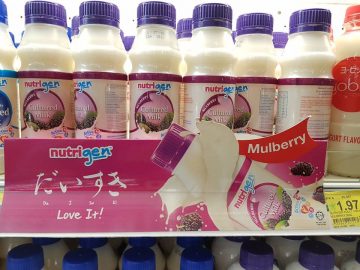 Here is the TVC:
Rebuilding portfolio
In May 2018, Mamee DyDo launched Yobick. The introduction of Yobick and the Daisuki move is seen as part of the company's push to rebuild its portfolio to concentrate on higher-quality products for a healthier lifestyle.
Performance dragged down by Cheers
Mamee DyDo Distribution, which is 51% owned by the Japanese firm, has failed to perform to expectation, dragged down mainly by the declining sale of its Cheers carbonated beverages in line with the overall fall in carbonated beverage sales in Malaysia. As a result, DyDo has to post "an impairment loss of ¥269 million in its consolidated financial results for the fiscal year ended January 2018 for goodwill arising from our acquisition of Mamee DyDo Distribution shares," according to a notice issued by DyDo on 2 March 2018.
The future plan is to discontinue Cheers brand of carbonated soft drinks and to "accelerate availability of new, high-quality products that accord with consumers' growing preference for healthy lifestyles," the notice says.