The joint venture between Mamee Double-Decker (M) Sdn Bhd and Japan's DyDo Group Holdings has unveiled Yobick, a yoghurt-flavoured drink that was launched in Malaysia in May 2018.
Yobick is described by the Japanese company as "a new, high-quality product for the Malaysian market modeled on similar offerings in Japan." The product was first launched in China in 2017. Mini Me Insights first saw it at SIAL China 2017 held in Shanghai in May 2017.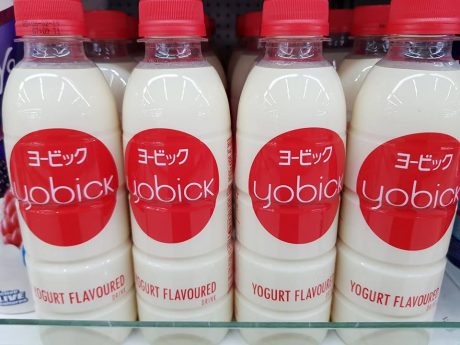 The new yogurt-flavoured drink represents part of DyDo's effort to rebuild its product portfolio in Malaysia.
Ambient yogurt-flavoured drink
Yobick is an ambient yogurt-flavoured drink, which means it does not need to be refrigerated. The drink is made in Thailand by Toyo Seikan (Thailand) Co., Ltd. and is distributed in Malaysia by DyDo Mamee Distribution Sdn Bhd and distributed in Hong Kong by Jagger International Co., Ltd. Yobick comes with the Malaysian halal certification.
Key ingredients
Yobick's main ingredients are water, sugar, skim milk powder, non dairy creamer, contains acidity regulator, soybean polysaccharide and flavouring. It contains pasteurised yogurt powder (whey, streptococcus thermophilus and lactobacillus Bulgaricus), honey and inulin as well as colour (E150a).
Below is how Yobick stacked up against Mamee's Nutrigen cultured milk, which needs to be chilled, and rival Calpis, an ambient cultured milk drink from Etika, a unit of Japan's Asahi.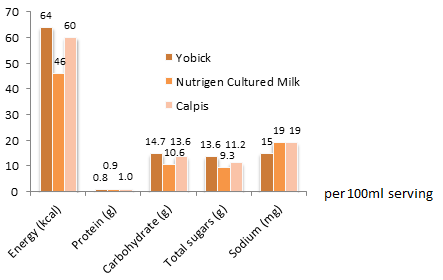 Yobick taps into made-in-Japan, aims at Calpis
Like Calpis, Yobick taps into the Japanese heritage and is marketing it as a leading brand from Japan. Below is a similar Japanese-centered approach taken by rival Calpis to promote its Fibre range.
Goodness, it's in our culture! Launched in year 1919, Calpis is Japan's first ever cultured milk drink. Now with the goodness of fibre, it's the taste that lifts you up with lesser sugar but just as tasty! Here's to 99 years of keeping tummies happy! #Calpis #CalpisFibre

Posted by Calpis Malaysia on 13hb Mei 2018
Yobick (310ml) is selling at Giant at RM 3.67, while Calpis Original is selling on Tesco Online for a price of RM 2.35.