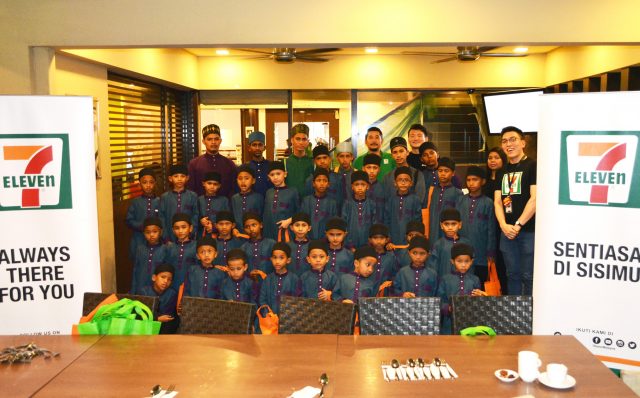 Kuala Lumpur, 20 June 2018 – In conjunction with Hari Raya, 7-Eleven Malaysia, the nation's favourite convenience store chain recently spread festive joy to a group of 35 orphans from Pusat Jagaan Lambaian Kasih. Alongside its startup NGOHub Asia, they brought the orphans to a garment retail store in Pudu to buy them a new set of Raya clothing to be worn for the upcoming Hari Raya celebration.
The volunteers coordinated the shopping session by dividing the children into groups. Each group then took turns to try out their choices for Raya clothing. With full excitement, the children picked out their preferred garbs and among top picks are the jubah, a loose-fitting traditional robe and Baju Melayu, a two-piece Malay traditional outfit that comes with a long-sleeved top and a pair of trousers. They also tried on casual shirts and slacks for a more contemporary spin on Raya fashion.
The day was then concluded with an appetizing feast to break fast at Rasa Utara, a Malaysian restaurant that specializes in Northern Malaysian cuisine located at Berjaya Times Square. The large spread consisted of Malay-style chicken in tomato sauce, fried vermicelli with bean sprouts, mixed vegetables, local fruits, refreshments such as teh tarik and rose-flavoured syrup, among many others. 7-Eleven Malaysia also distributed goodie bags that contain a variety of plush toys and stationaries to further bring happiness to the children.
Ronan Lee, 7-Eleven Malaysia General Marketing Manager said, "With Hari Raya just around the corner, we wanted to do something special for the children by gifting them brand new Raya outfits to usher in the festive spirit and enhance their mood of enjoying the holiday season. It is essential to spread positivity to the children at this time, as doing so would help remind them of the joy and meaningfulness of celebrating the festivity. We at 7-Eleven Malaysia strongly believe in uplifting the lives of those who need us, and knowing the the positive impact we make encourages us to continue our endeavours of being Always There For You."
About 7-Eleven Malaysia
7-Eleven Malaysia Holdings Berhad through its subsidiary 7-Eleven Malaysia Sdn. Bhd. is the owner and operator of 7-Eleven stores in Malaysia. Incorporated on 4 June 1984, 7-Eleven Malaysia has made its mark in the retailing scene and has been a prominent icon for over 33 years. 7-Eleven Malaysia is the pioneer and largest 24-hour standalone convenience store operator in Malaysia with over 2,235 outlets nationwide and serves more than 900,000 customers daily. 7-Eleven stores can be found across bustling commercial districts to serene suburban residential compounds throughout Malaysia, from petrol stations and LRT stations to shopping malls and medical institutions. 7-Eleven is Always There For You.