Coca-Cola's Aquarius and F&N's 100Plus isotonic drinks are now available for a short period at 10 McDonald's outlets in Malaysia. Of the 10 outlets, 4 are located in the Klang Valley and 1 each in Klang, Perak, Kuantan, Johor, Seremban and Malacca.
At the moment, McDonald's does not service isotonic drinks. Consumers who do not wish to eat their meals with the fizzy drinks of The Coca-Cola Company (Coke and Sprite) has to pay extra to switch to Milo, Nestea iced lemon tea, Minute Maid, Ribena and Dasani mineral water.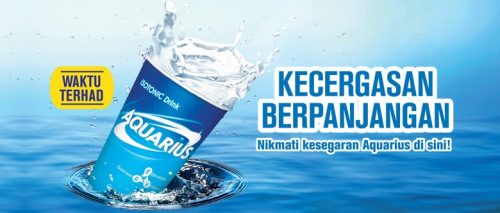 The limited trial of 100Plus and Aquarius shows McDonald's is trying to broaden its drink menu. Isotonic drink, usually carbonated, is perceived to be a healthier alternative to carbonated soft drinks (Coca-Cola and Pepsi). If the experiment works, isotonic drink may appear on McDonald's menu in the future targeting consumers who want something less sugary but still has the indulgent element.