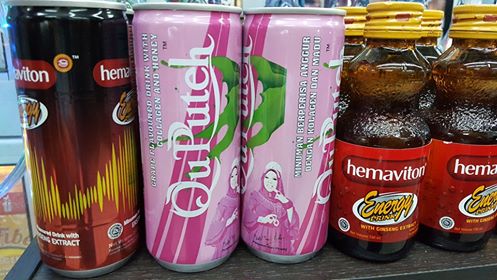 Malaysia's Vida Beauty has released the ready-to-drink version of its Qu Puteh collagen drink and Pamoga health drink. Both are priced at RM 4.80 (USD 1.20) to RM 5.00 a tin. Vida Beauty's founder Dr Vida is a controversial figure who knows how to do viral marketing. Her company announced in early 2016 of the sponsorship of the Kelantan football team and part of the agreement was to paint the stadium pink.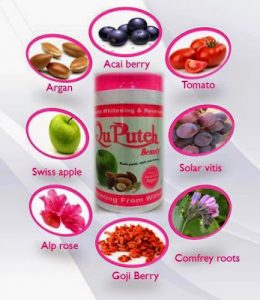 Qu Puteh collagen drink in powder format is made from the stem cells of Alp rose, Swiss apple, argan, tomato, acai berry and other ingredients to achieve not only the whitening effect but also claimed to be good for overall health. The company stressed the drink is suitable even for pregnant women and lactating mothers.
The Qu Puteh tin version does not have stem cells as it is not mentioned on the packaging. The product's main ingredients are distilled water, sugar, honey , collagen powder (fish), preservative, colour, flavour and acidity regulator.
The 240ml can has 46kcal per 100ml, 11.6g of carbohydrate per 100ml and 9.7g per 100ml of total sugar.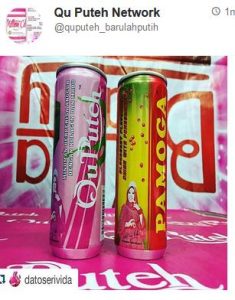 Even though Qu Puteh collagen drink in grape flavour does not have stem cells, it does fill the gap in the RTD collagen drink space. Consumers can now drink it instantly without having to mix the powder first with water.  The powdered Qu Puteh costs at least RM 170 per bottle whereas the RTD collagen drink is only RM 4.80 to RM 5.00, which makes the RTD version more accessible.
Health drink Pamoga with pomegranate has also been turned into a RTD drink. Both the RTD Pamoga and Qu Puteh are sold at traditional beauty and health supplement stores and not in the modern trade.