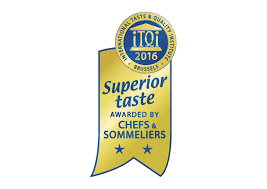 Asian winners account for 28%
The International Taste & Quality Institute (iTQI) Diamond/Crystal/Superior Taste Award 2016 saw around 390 winners from Asia or 28% of the 1,385 winners worldwide.
Why businesses want the award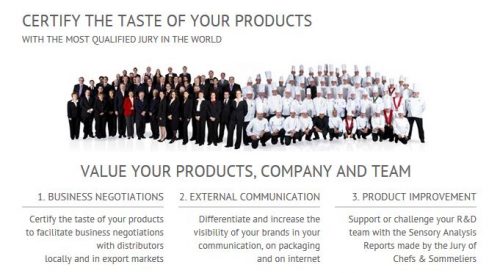 The benefits of winning the award is explained on the iTQi website.
Business negotiations (export and local distribution)
External communication (marketing)
Product improvement (challenge R&D team)
The jury team comprises chefs and sommeliars who have worked not only in Europe (iTQI is based in Brussels) but also in other parts of the world including Japan and Thailand. On the website, the non-exhaustive iTQi jury members are mainly Caucasian faces. This raises the question whether these chefs and sommeliars are able to understand the intricacies of Asian food and drinks even though some might have worked in Asia before.
There is also a strong possibility that the award is potentially useful for exporters trying to crack the European market since the chefs and sommeliars are familiar with what European consumers like.
Japan leads award winners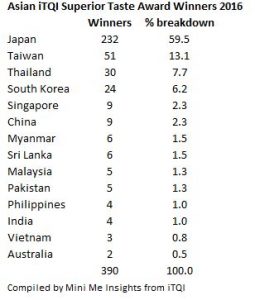 Japan has the biggest share, accounting for nearly 60%, followed by Taiwan and Thailand respectively with 13% and 8%. Japanese winners include a wide range of products such as tea, confectionery, sauces and seasonings, alcoholic drinks and non-alcoholic beverages like coffee.
The winning products reflect country's category strength or export focus

With Taiwan known for its tea, of the 51 winners, 22 are tea products, which highlights the eagerness of Taiwanese tea producers in getting global recognition.
Thailand is known for its rice, sauces and energy drink. This is reflected in the winning products from Thailand.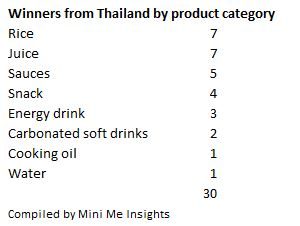 Alcoholic drink is a big business in the Philippines. All the winners for the Philippines comprise mainly rum (3 winners) and one cooking wine.  The winners from Myanmar and Vietnam are all alcoholic drinks, while the Singapore winners are in the RTD beverage and chocolate categories.
The South Korean winning products comprise mainly aloe vera beverages, makgeolli, soju and seaweed snacks. Most of these products are categories that are the current export focus of Korean F&B exporters.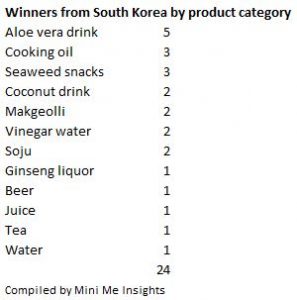 Using award to promote coconut water
Coconut water is gaining popularity in Asia. When it comes to the taste, the jury gave all the coconut water only 1 star, which is the lowest out of 3 stars. Notwithstanding the low point scored by coconut water, the key thing is companies like Coco-Cola Beverages (Shanghai) and All Market Singapore appear to be using the Superior Taste Award to promote Vita Coco and Zico Coconut Water, respectively in Singapore and China and possibly in other markets.

Key takeaways
The analysis of the winning products from Asia shows the iQTi Superior Taste Award is a platform for companies to improve their product taste credential to give them an edge when dealing with suppliers, distributors and end consumers. The winning list also reveals the export thrust of countries such as tea appears as the largest winner in Taiwan and aloe vera drink for South Korea.