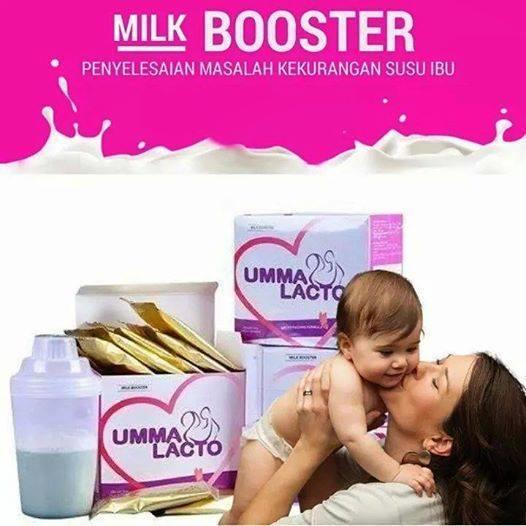 Milk booster, a product that enhances breast milk supply, is popular in Malaysia and Indonesia. In fact, according to Google Trends, there has been a rising search for the keyword 'milk booster' in Malaysia and 'ASI booster' in Indonesia. ASI is the acronym for air susu ibu or breast milk in Bahasa Indonesia.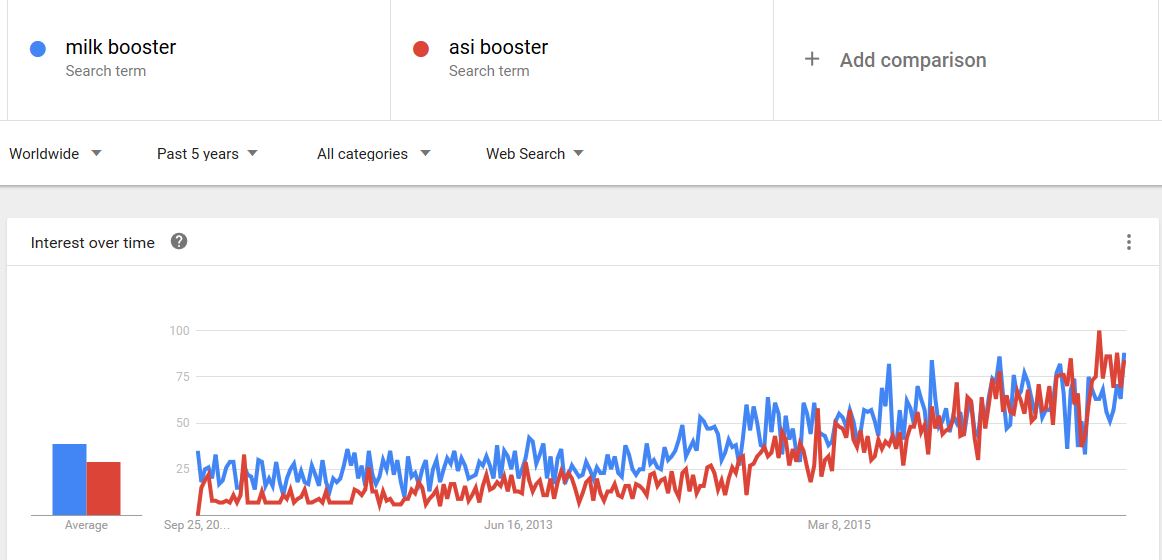 In powdered/tablet format

In Malaysia, most of the milk booster come in the powder/tablet format. The only thing that sets them apart is the ingredients. For example Moeder is made from natural ingredients such as goat's milk, tomato extract, honey, grape extract, vanilla, papaya, carrot, seaweed, bird's nest, arabic gum, bilberry and habbatus sauda sweetened with stevia.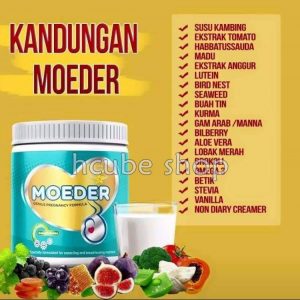 MaMom Milk Booster in tablet has the following ingredients including goat's milk, habbatus sauda, goat's milk (susu kambing), honey, dates (kurma), spirulina, raisin (kismis) and soya.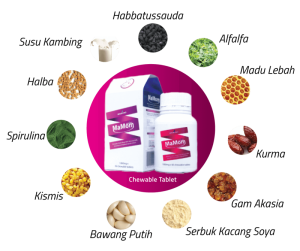 ASI booster with herbs popular in Indonesia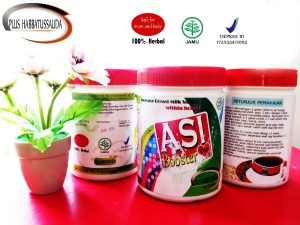 Milk booster, commonly known in Indonesia as ASI booster, uses herbs as the base unlike goat's milk, which is popular in Malaysia. ASI Booster Tea contains habbatus sauda (black cumin/black seed), moringa (malunggay), anise and fenugreek. The drink does not contain caffeine and does not use tea leaves.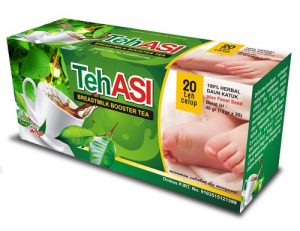 Teh ASI by Sidoarjo-based Green Nirmala contains Sauropus androgynus, also known as katuk or star gooseberry. It comes with fennel seed (habbatus sauda) in 20 sachets weighing 2g each.
Habbatus Sauda is the common ingredient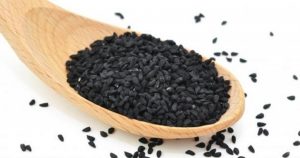 All the milk booster/ASI booster contains habbatus sauda, an ingredient popular with Muslims. According to tradition, the Prophet Muhammad once described black seed as a healing for every disease except death. Habbatus sauda is found in products targeting at Muslim consumers ranging from shampoo to herbal supplement.
Now in ready-to-drink (RTD) format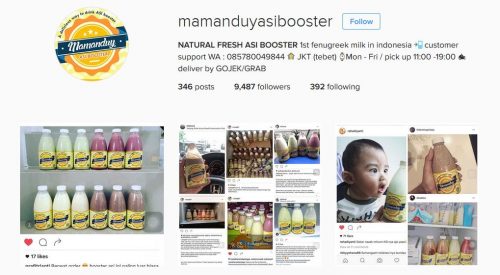 In Indonesia, Mamanduy claims to have introduced the first fenugreek milk in RTD format. Mamanduy ASI Booster comes in four flavours – nutella, red velvet, banana dan matcha. According to the company, it is selling around 11,000 bottles per month. Apart from fenugreek, Mamanduy contains organic chia seeds, milk, oat and homemade soya.

Why milk booster becomes popular
Muslims are encouraged to breastfeed until 2 years as stated in the Holy Quran.
"And mothers suckle their children full two years; it is for one who wants to complete the (period of) suckling."   (Surah Baqarah v.233)
For mothers who are able to breastfeed their baby, some would strive to give their infant with breast milk for 24 months. To ensure their breast milk is sufficient, some mothers will turn to health supplement to boost their milk production.
The rising demand for milk booster also reflects growing interest among mothers to breast feed their babies, thanks to education and public health campaigns. This comes despite studies showing a low prevalence of exclusive breast feeding in Indonesia and Malaysia. In Indonesia, the exclusive breastfeeding in babies younger than six month reached 42% in 2012, up from 32% in 2007, according to the Indonesian Demographic Health Survey. In Malaysia, the Ministry of Health statistics reveal only 14.5% of babies were exclusively breastfed below six months in 2006. There is no latest data from the Malaysian government.
The rising demand for milk booster serves as a proxy reflecting the growing interest in breast feeding. This is a positive step towards giving babies living in developing nations a better start in life especially where the health system is still not well developed.