Strategically located in downtown Kuala Lumpur
FamilyMart has finally opened its doors in Malaysia with the pilot store located at Wisma Lim Foo Yong, which is just a walk away from the KL Tower. FamilyMart is located next to the Holiday Inn Express Kuala Lumpur City Centre and is in close proximity to nearby offices where office workers are prime target for the high-margin, grab-and-go fresh food.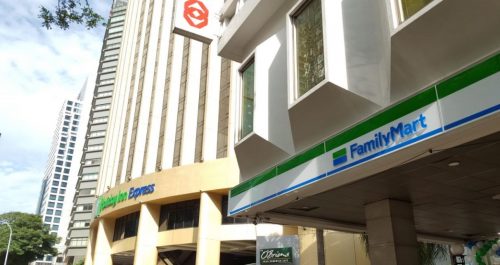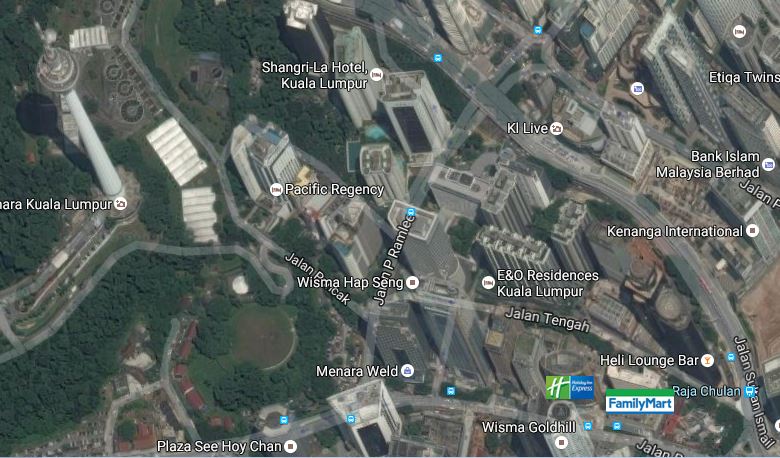 Power of social media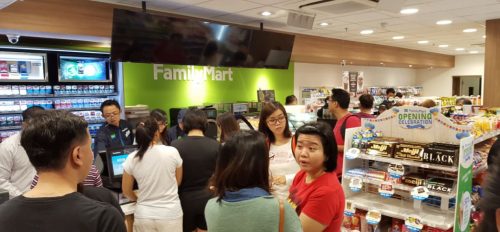 The launch was widely reported in the social media and quickly spread through word-of-mouth. The author first became aware of the new opening from a Facebook post. The social media postings were instrumental in bringing in the crowds. When the author visited the store at 8am on a Saturday morning, the outlet was already packed with curious visitors.
Interestingly, most of the visitors that day were from the Chinese community. One possible reasons is the news was carried mainly by social media in the Chinese-language. Some of the visitors have been to Taiwan, Korea, Japan and Japan and have personally experienced the convenience stores in those countries. Visiting the new FamilyMart gives them the opportunity to compare and contrast their experience of the FamilyMart they knew in Taipei or Tokyo.
Tour of the hot food section – Oden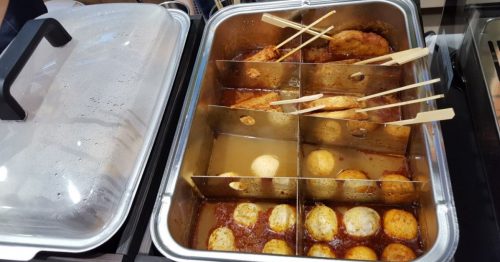 The popular oden — Japanese-style stewed fish-paste on a stick, is a crowd puller. At the moment, oden is not served at 7-Eleven, the country's biggest convenience store chain. The starter bowl costs RM 3.00 with a choice of tom yum soup or original soup (non-spicy). There are 5 starter bowls to choose from
Corn set
Ajitsuke tamago set (soft-boiled eggs marinated in a sweet and salty soy-based sauce)
Fsh cake set
Daikon set
Fish ball set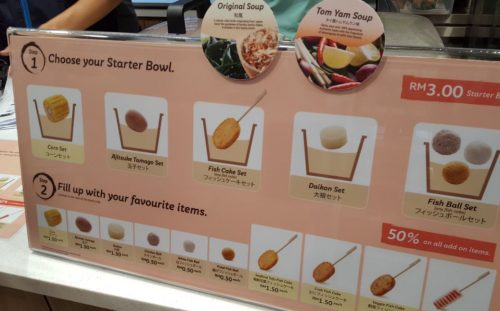 You can then fill up the bowl with your favourite items limited to the size of the bowl. There is a 50% discount on all add on items.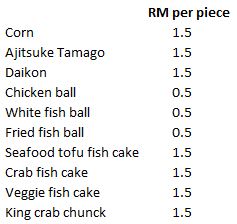 FamilyMart has the cost advantage in processed food as QL, the local joint venture partner and the master franchise holder in Malaysia, is among Asia's biggest surimi and egg producer and one of the leading processed seafood companies in the country.
Hot snacks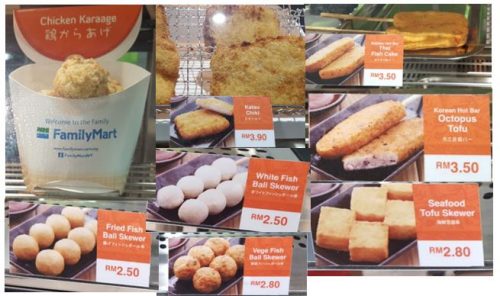 The hot snack section offers a wide range of hot food including local, Korean and Japanese delights such a katsu chiki, chicken karaage and Korean hot bar octopus tofu. The dim sum corner sells local favorites like kaya pau, loh mai kai and siu mai.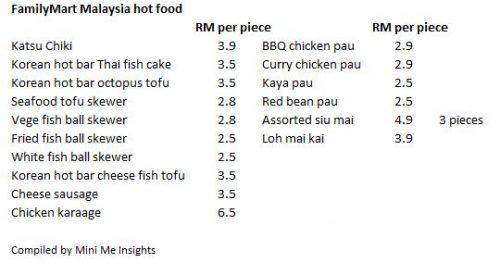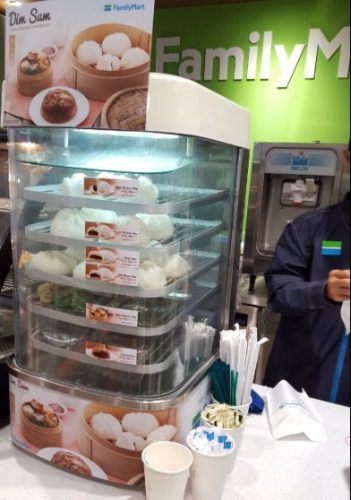 Japanese-inspired ready-to-eat chilled food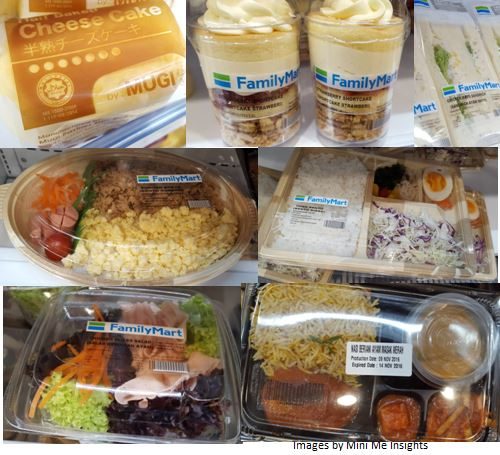 The chilled food section offers a wide array of Japanese, local and foreign-inspired food including bento, onigiri, sandwich, salad, dessert and pasta. However, there is no information about the manufacturer on the packaging.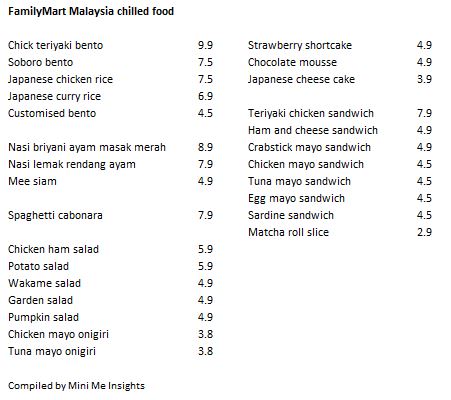 Halal is a major concern
FamilyMart understood the sensitivity on halal requirement and has taken action to apply with JAKIM. It has also taken steps to ensure all the imported products especially those from Japan and Korea to be free from non-permissible ingredients.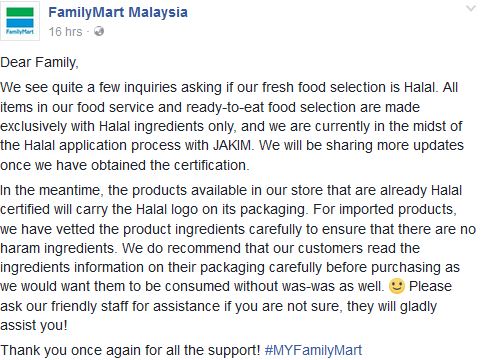 FamilyMart fresh bread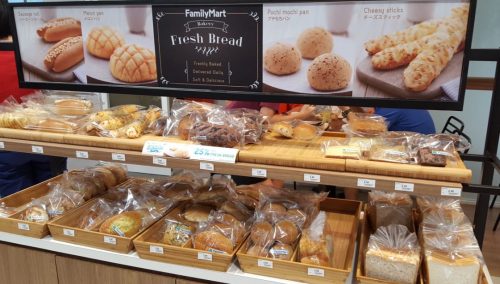 The FamilyMart bread is freshly baked and delivered daily. The breads include cheesy sticks, puchi mochi pan, sausage roll and melon pan.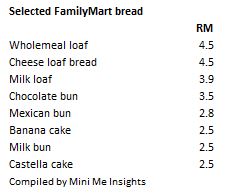 Smoothies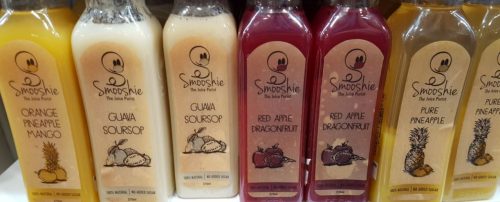 The smoothies are supplied by Smooshie Juice, the Juice Purist. Each bottle of 270ml is priced at RM 8.50. It is 100% natural with no sugar added.
FamilyMart private label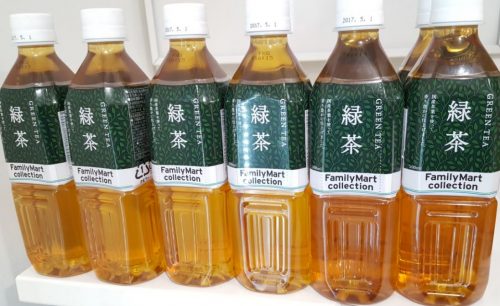 The FamilyMart Collection Tea comes with a choice of four – green tea, jasmine tea, oolong tea and barley tea. Each 500ml bottle is priced at RM 3.90. They are made in Japan and imported by Daisho Food (M) Sdn Bhd for Maxincome Resources Sdn Bhd, the operator of FamilyMart in Malaysia.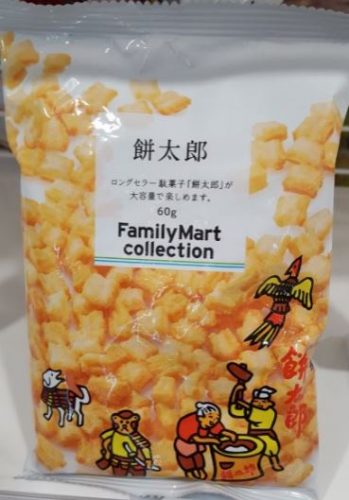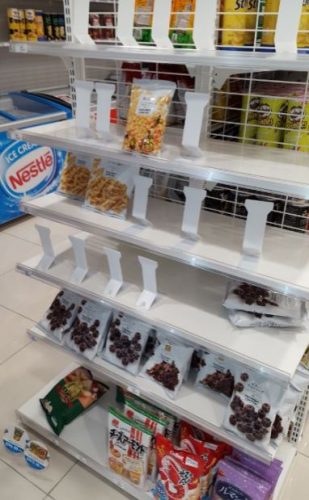 Also available are the FamilyMart Collection snacks including Mochitaro Rice Cracker and Shim Choc Snacks (63g – RM 5.90). They prove to be extremely popular with most of the FamilyMart Collection snacks nearly all sold out on the day of visit.
Platform for Japanese food and drinks
FamilyMart serves as a good channel to sell Japanese food and beverages, which befits its Japanese origin. Daisho, the importer of these products, is the prime beneficiary.
Japanese KitKat (right) – RM 15.90 (image below)
Japan's Blendy Coffee 64g – RM 14.50 (image below)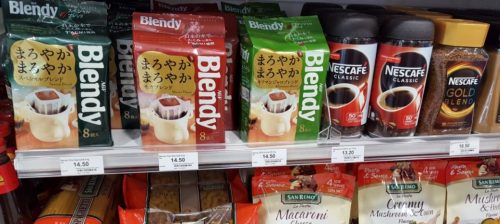 Japanese tea eg Ito En Tenmaicha 20 bags RM 14.90, Ito En Oi Ocha Tea 20 bags RM 14.90, Harada Brown Rice Green Tea 50 bags x 2g RM 25.90 and Harada Green Tea 50 bags x 2g RM 24.90 (below)
Kikkoman Teriyaki BBQ 250ml RM 14.90, Daisho Sweet Sauce 400ml RM 19.90, Nisshin Seifun Fumi Tsuyu 400ml RM 17.90, Kikkoman Teriyaki 210g RM 15.50, Nihon Shokken Unagi 210ml RM 16.90, House Neri Wasabi Tube 43g RM 5.90, House Togarashi 17g RM 8.50 and House Rayu Regular 33ml RM 8.90 (image below)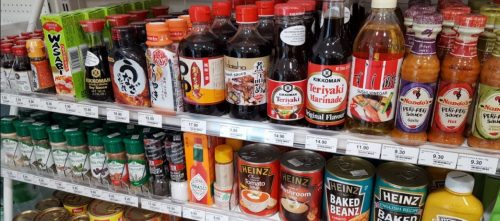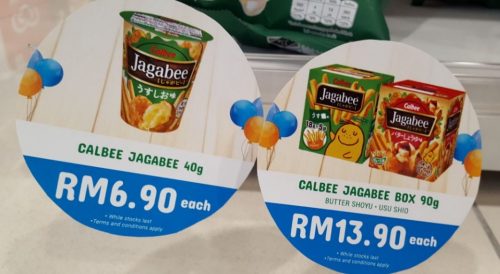 Morinaga Hi Chew 58g RM 5.90 (image below)

94g RM 8.50 (image below)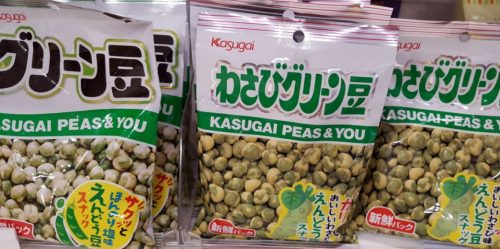 Yasai Boro – 120g RM 14.90. The same price as Shojikiya. (image below)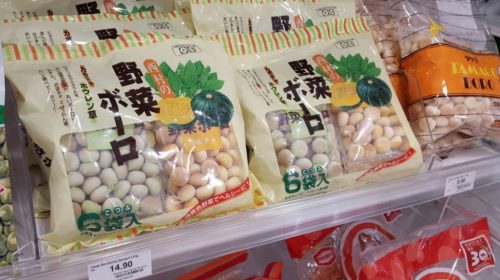 Morinaga Ottoto Usushio Aji 54g RM 9.50, Bourbon Petit Chocolate Langue de Chat 47g RM 4.90 (image below)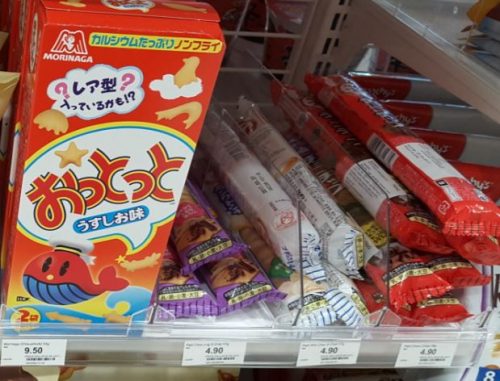 Kirin Fire Coffee Hikitate Bitou 185g RM 6.30, UCC Blend Coffee 185g RM 4.30, UCC Milk Coffee 185g RM 5.90, Boss Cafe Au Let 185g RM 6.90 (image below)

Ito En Green Tea (image below)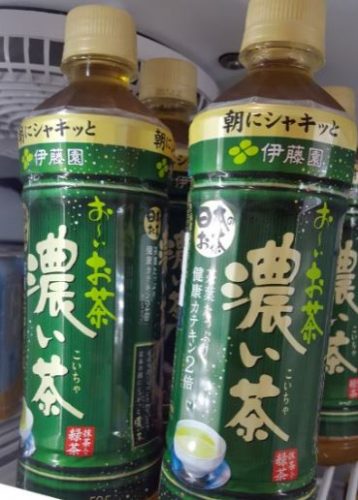 QL own brands
As the franchise owner for the FamilyMart stores in Malaysia, QL not only supplies the store with its own processed seafood, it also sells its own Ika branded seafood snacks.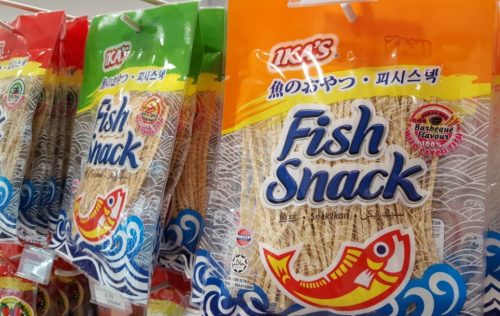 Frozen chiller
QL's Mushroom Fisro, Cheese Fish Tofu, Seafood Tofu and Fish Sandwich. Simplot Hashbrowns and French Fries. (image below)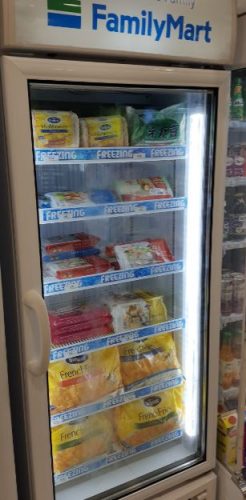 Non-food section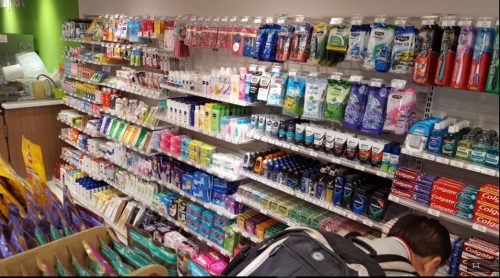 Seating area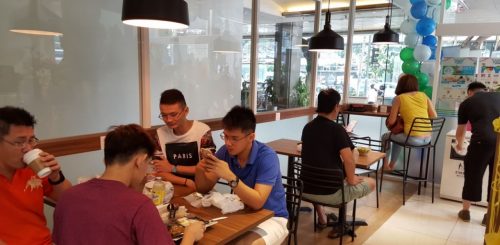 Game changer
The new FamilyMart is a game changer in the local convenience store scene. It can be said that the new outlet resembles more like the FamilyMart in North Asia than the exiting format in Malaysia, which has more localised and less ready-to-eat food choices.
Taste will be the key to the success of FamilyMart. The chain will need to ensure the taste is up to standard as consumers will be benchmarking the new FamilyMart with what they have tasted in local Japanese restaurants and in the convenience stores abroad.