"The More You Know, the More You Will Love" (更了解,更爱我) is the tagline of Unilever's Marmite in Malaysia. Due to the British colonial rule and the ingenious way of the ethnic Chinese incorporating Marmite into their dishes, Malaysia and Singapore have become small but important overseas markets for Marmite.
How Marmite is eaten in Malaysia
Take your chicken to the dark side with our very own Marmite chicken recipe.

Posted by Marmite Malaysia on 18hb Ogos 2016
Marmite is eaten with porridge and most famously in the form of Marmite chicken (妈蜜鸡). Some consumers do not like Marmite but they can accept it when it is used in cooking. The potential for Marmite is therefore the biggest in foodservice.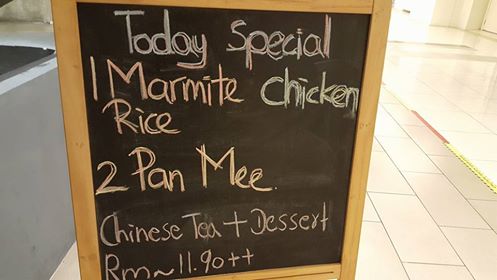 Marmite Chicken Rice being served at Kechara Oasis restaurant at Jaya One (image above)
To celebrate Malaysian fascination with Marmite chicken, the brand even organised a search in 2016 for the best Marmite chicken restaurant in the Klang Valley. The titles went to Hiing Fatt Restaurant in Puchong.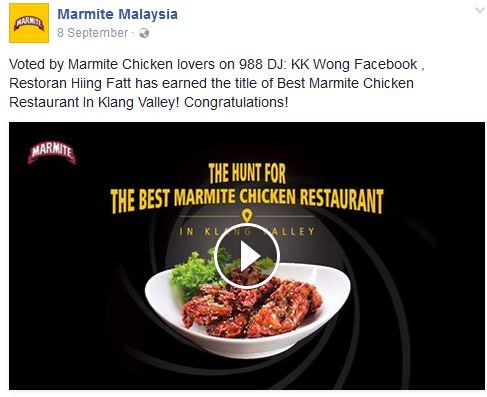 On social media since July 2016
Marmite Malaysia has its own official Facebook account on 21 July 2016. The has since attracted around 14,000 fans as of 28 December 2016.
Marmite in the stores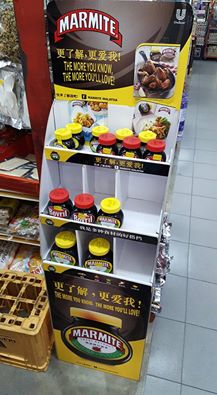 Marmite stand in a traditional Chinese medicine hall in Seri Kembangan, Selangor. Image above was taken by the author
The Marmite stand seen in a traditional Chinese medicinal hall is unique because this is not seen previously. The stand probably ties in with the "The More You Know, the More You Will Love" campaign. It comes with Marmite-inspired recipes as part of an effort to increase consumption by turning Marmite into a cooking ingredient.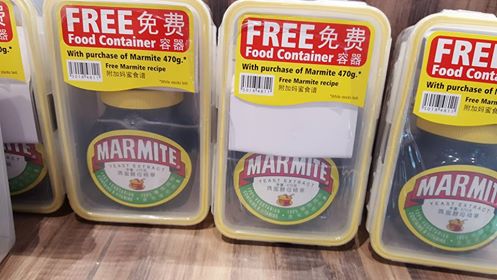 Marmite 470g comes with a free container and free recipe (image above)
In modern supermarket/hypermarket, Marmite is often placed along side Bovril. The latter is less popular than Marmite as it has a beefy taste. Consumers are still confused about the halal status of Bovril. According to GBA, the distributor of Marmite and Bovril, both products are certified halal.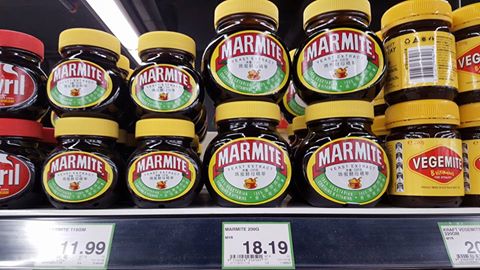 The size of the Marmite jars in Malaysia is smaller than the UK. As you can see, a jar of Marmite is Malaysia is slightly lighter than the one in the UK. Price wise, it appears Marmite is more expensive in Malaysia than the UK probably due to the depreciation of the ringgit versus the pound. At Waitrose in the UK, a 500g jar costs GBP 4.00 (RM 22), while a 470g jar in Malaysia costs RM 31.25 at Cold Storage.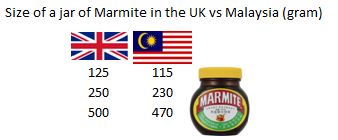 Marmite is just like durian, either you love it or you hate it. The key challenge is to start 'em young, which means the role falls on the shoulders of their parents. But the highest potential continues to be in foodservice as well as the Malay market, which is still untapped.