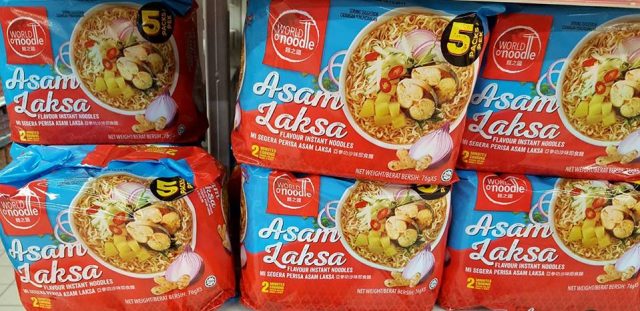 The private label instant noodle of GCH Retail under the World O'Noodle label has now being enriched with four new flavours – Asam Laksa, Tom Yum, Chicken and Curry. The existing three fried noodle (Mi Goreng) flavours celebrating the taste of Indonesia seem to have been discontinued but this is not verified.

Now the four new flavours are meant to bring "you a piece of Asian in every bowl." Unlike the Mi Goreng range, which is made in Indonesia, the four new flavours are all manufactured in Malaysia. The name of the manufacturer was not disclosed.
Each product comes in a pack of 5. The Tom Yum and Asam Laksa is selling at RM 3.99 (USD 0.90), while the Curry and Chicken is priced at RM 3.19.
World O'Noodle is distributed in Hong Kong, Malaysia, Singapore, Brunei, Indonesia and the Philippines by the units of Dairy Farm.