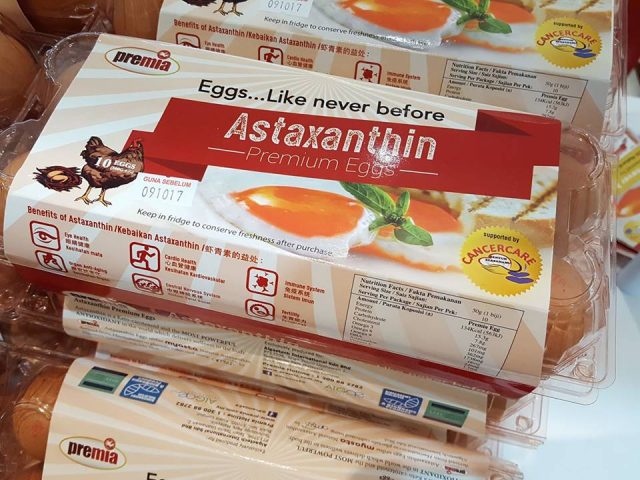 A premium egg infused with the super anti-oxidant Astaxanthin caught my eyes at the recent Selangor Expo at Setia City Exhibition Centre. According to the company, the eggs are now available at Jaya Grocer and Village Grocer in Malaysia's Klang Valley. The Premia Astaxanthin eggs were first launched in September 2016.
Algaetech International Sdn Bhd, a local biotechnology company, is the first Astaxanthin producer in Southeast Asia.
Benefits of Astaxanthin
Astaxanthin is derived from Haematococcus pluvialis, a microalgea which produces astaxanthin. Astaxanthin is beneficial to the eye, cardiovascular, central nervous system, immune system and fertility.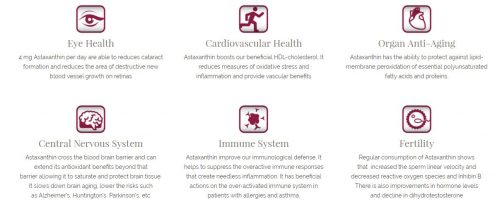 The hens are fed with the freeze-dried Haematococcus pluvialis powder to produce egg yolks that have a deep coloration thanks to the presence of astaxanthin.
Difference between Premia egg and normal egg
Compared with a normal egg, the Premia egg has omega 9, DHA and astaxanthin. It has slightly higher protein versus a normal egg, lower in cholesterol but higher in carbohydrate. However, the Premia egg is significantly lower in omega 6.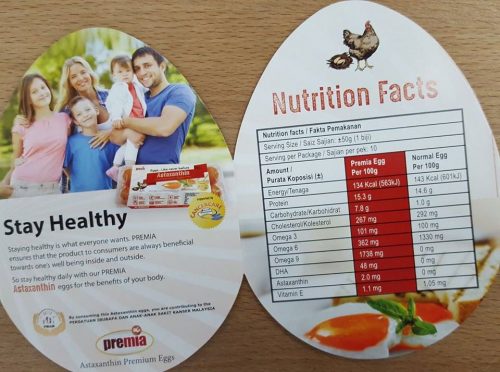 The eggs are produced and packed by Selasih Aman Sdn Bhd located in Kerling in the state of Selangor.
A tray containing of Premia Astaxanthin eggs is priced at RM 10 at roadshow and expo. Online, it is selling at RM 15 on the company's official portal.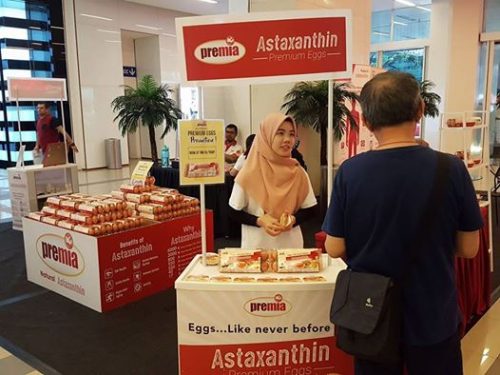 Above is the photo of the the Premia Astaxanthin egg booth at Avenue K taken by the author in September 2017.