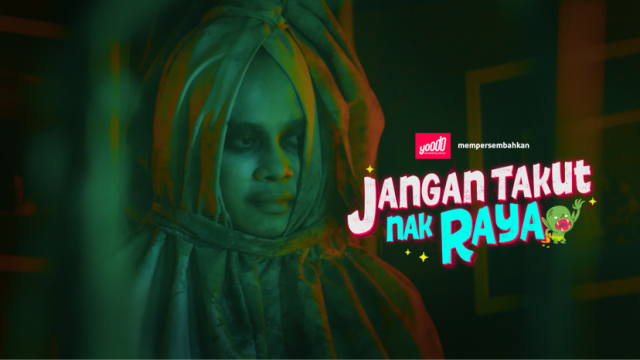 Frightfully hilarious video proves that distance is no match for Yoodo's customisable plans
20 APRIL 2022, KUALA LUMPUR – This time last year, it was us under the lockdown, not the hantus. The tables have now turned, with Yoodo – Malaysia's first fully customisable and 100% digital mobile service – bringing a humorous twist to the typical Hari Raya ad with their special 'Jangan Takut Nak Raya' video.
Chow Tuck Mun, Head of Yoodo, said "We are thrilled to introduce our 'Jangan Takut Nak Raya' video for the festive season, which is fun, cheeky, and bold – just like Yoodo! As the first Raya without lockdown in two years, it is bound to be extra special this year. This video was a whole lot of fun to make, and really captures how Yoodo is bringing families (and even hantus!) closer together by giving users the power to fully customise their plans according to their needs."
The video sees Pontianak (Ponti), Toyol, Hantu Raya, Pelesit, and Pochong gathered the night before Raya begins, lamenting over their luck at being in lockdown the entire month of Ramadhan. Complaining of being bored, they consider leaving their 'cage' to explore the outside world, while mulling over SOPs to be followed while out and about.
Toyol wishes he could join in the Raya fun and festivities, and the rest of the hantus chime in in agreement. They imagine the food, the family time, and how Raya will be extra special this year with people finally able to balik kampung. However, one hantu, Ponti, begins to cry. When he used to be a human, his mak would always prepare pineapple tarts during the festive season, and he worries that she is missing him.
A brilliant idea comes to light from Toyol – why not just give her a call? Having stolen the mobile phone of an old lady some time ago, he says that the old lady had just switched to a Yoodo line! Toyol shares that Yoodo users are able to customise data usage, minutes, and SMS, and best of all, they're able to switch the plan anytime they want.
The hantus then come up with another genius moment – to video call Ponti's mak! Mak, who is sleeping, wakes up to the video call, and answers to see Ponti wishing her Selamat Hari Raya.
To watch the 'Jangan Takut Nak Raya' video, head over to Yoodo's YouTube page at https://www.youtube.com/watch?v=RY0nHLiRBoM .  For more information on Yoodo, follow Yoodo at www.facebook.com/yoodoMY or visit www.yoodo.com.my.
About Yoodo
Launched in January 2018, Yoodo is an independent digital mobile service that is owned and operated by Celcom Axiata Berhad. It offers the country's first truly customisable mobile service with complete transparency, flexibility and customer convenience.
For more information on Yoodo, log on to yoodo.com.my or look up yoodoMY on Facebook, Instagram, TikTok, YouTube and and Twitter or get the latest esports updates by following @yoodoesports on Facebook and @yoodoesportsMY Instagram.