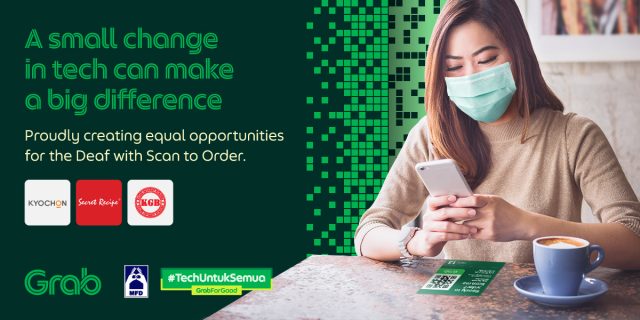 Petaling Jaya, 15 February 2022 – Grab Malaysia introduces 'Scan To Order' and continues its partnership with the Malaysia Federation of The Deaf (MFD) to drive further employment and earning opportunities for those in the deaf community through tech. This effort comes as part of Grab's ongoing #TechUntukSemua focus – using technology as a force for good to empower more people to access opportunities from the digital economy, no matter their background.
In 2018, Grab first introduced the 'BreakTheSilence' campaign in partnership with MFD, where just over 100 deaf driver-partners were onboarded. Since then, Grab has extended its commitment to improve the overall experience for partners with various forms of disabilities who depend on the various services on Grab. To-date, over 1,000 PWDs earn an income via Grab in Malaysia, which includes driver-, delivery- and merchant-partners on the platform.
"The PWD community inspires us everyday with their tenacity and spirit in overcoming all obstacles. With our friends at MFD and Grab Signatures merchant-partners, we hope to do our part in supporting the community by leveraging technology to challenge the status quo, by removing barriers that were traditionally accepted as the norm. In doing so, we hope to create equal, inclusive opportunities for our community of PWDs to build respectable livelihoods," said Sean Goh, Managing Director, Grab Malaysia.
"We laud Grab for their effort in creating an equal and inclusive environment for the PWD community in Malaysia to have  access to earning opportunities. The #TechUntukSemua drive is an exemplary showcase of leveraging technology to ensure a more inclusive economy among all Malaysians. We are also proud of this long-standing partnership with Grab to ensure that Malaysia's PWD community are able to have the knowledge, capabilities and opportunities to enter the workforce," said Mohamad Sazali Shaari, President, Malaysia Federation of the Deaf. 
'Scan To Order' – Driving Inclusivity Through Technology
With the pandemic impacting consumers' daily lives, restaurants need to adapt to provide a safe yet convenient experience. Grab's 'Scan To Order' feature aims to support this by providing a contactless dine-in solution that allows patrons to place their orders and pay for their bill – all on their smartphones, in 3 simple steps:
Consumers scan the QR code at their table with their phone camera to browse the menu
Consumers place the order and pay for it via the Grab app
Orders are sent to your merchant's GrabMerchant app for their kitchen to start preparing
With the introduction of the feature, restaurants will be able to employ deaf Malaysians for service roles, which would typically be considered as more challenging for them to excel in. Helping to drive this change further, Grab is working with MFD to identify and train deaf individuals to equip them with the necessary skills to be part of the workforce. They will then be matched with and hired by participating Grab Signatures merchant-partners. Within the first month of the pilot, 14 deaf individuals have already been hired to work at various outlets of participating Grab Signatures merchant-partners, Secret Recipe, KGB and Kyochon.
In addition, Grab is also providing job coaches to assist merchants in communicating with their deaf employees for three months, and an onboarding kit that comprises a handbook, a pin for each deaf employee, the QR code, and a window decal.
Here's what our participating Grab Signatures merchant-partners as well as the inspiring individuals they now employ had to say about the initiative: #TechUntukSemua Video Testimonials
To learn more about Grab's #TechUntukSemua efforts to drive equal opportunities for Malaysians, please visit: #TechUntukSemua