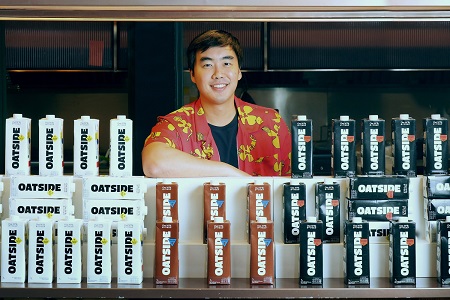 The first "full-stack" oat milk brand from Singapore, OATSIDE is now available in three variants at select retail locations
17 JUN 2022 – Developed amid the pandemic by Singaporean Benedict Lim, OATSIDE is one of the first "full-stack" oat milk brands to originate from this part of the world, with in-house manufacturing capabilities and full control over its sourcing and production process.
"We know that taste is often a barrier for more people adopting sustainable milks, so our goal was to develop an oat milk that could overcome these perceptions. It was a challenge developing the right product with existing setups at contract manufacturers in the early days, so we took the longer approach of building out our own production line that allowed us more customisation and control over the oat extraction process," said Benedict Lim, Founder and CEO of OATSIDE.
A delicious alternative to dairy, OATSIDE will have the lactose intolerant among us punching the air. And because we love our planet (and really don't want to move to Mars), OATSIDE was also created with our home in mind – the production of oat milk requires 90% less land and water, and produces 70% less emissions as compared to cow's milk. In line with our mission to be sustainable without tasting sustainable, OATSIDE sources Rainforest-Alliance certified ingredients and uses recyclable paperboard packaging (from Forest Stewardship Council certified sources).
Get excited, because we are introducing not one, not two, but three delicious oat milk variants – Barista Blend, Chocolate and Chocolate Hazelnut all of which will have you wondering: how is this not dairy?
"I can't wait for everyone to join us on the OATSIDE. We've worked really hard to develop a plant-based milk for Asia that doesn't feel like a compromise on quality, taste or texture. We hope to contribute to a growing stable of plant-based products where picking the sustainable option no longer tastes of 'doing your part. We also have brand partners who use OATSIDE as a vital ingredient in drinks and snacks, providing excellent products to Thai customers. Among these partners are The Coffee Club, True Coffee, MollyAlly, Chikalicious, and Chaen Tea," said Benedict.
OATSIDE oat milk is currently available in three flavours in 1,000 ML at nearby supermarkets: Barista Blend (115 baht), Chocolate (115 baht), and Chocolate Hazelnut (130 baht). These incredible products will soon be available on the Shopee and Lazada online shopping platforms. Those interested can taste fantastic menus made with OATSIDE milk at partner stores such as The Coffee Club, True Coffee, MollyAlly, Chikalicious, and Chaen Tea. You'll be surprised at how wonderful these plant-based milk products are.