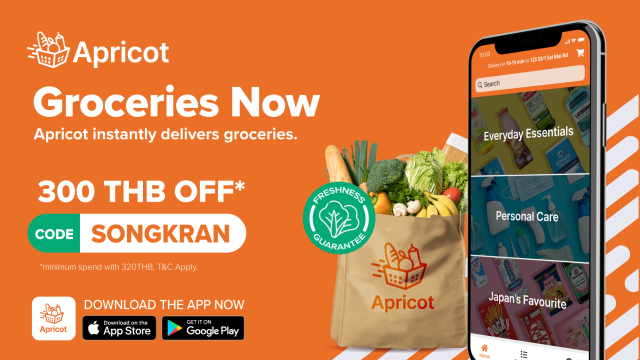 Residents of the Wattana, Bangkok area can now have their last minute grocery needs delivered in 15 minutes when ordering from the Apricot Groceries App.
21th April, 2022 – Apricot launches Thailand's first quick commerce business! The Apricot Groceries App offers time-strapped customers of Wattana, Bangkok, over 2,000 products including fresh groceries, frozen delights, and daily essentials delivered to your door in as fast as 15 minutes. In 2021 investors have poured billions of US dollars into the Quick Commerce business model globally. Companies such as USA and Europe have all raised billions of US dollars in 2021.  Today Apricot launches as Thailand's first Quick Commerce app as it plans to build multiple "cloud stores" delivering fresh groceries at supermarket prices in 15 min.  Aggressive expansion plans see them quickly scaling across Bangkok, before expanding across Thailand and then onto conquering South East Asia. 
The Apricot Groceries App

 is different from other grocery delivery players in the market as it promises 100% complete orders, with a freshness guarantee, at supermarket prices, delivered instantly.  Customers can stay safe at home, spend time with their family, and let Apricot deliver what you want, when you want it.  Apricot Groceries is constantly listening to our customers, sourcing the products they want across the essential categories needed for all members of the family:
Freshly sourced ingredients direct from local farms. Whether planning your weekly shop or just need that missing ingredient to complete your dinner party.

Your favorite global snacks and deserts including Lays, Hershey, Nestle and Ben & Jerry's

Mother and Baby products such as Mamypoko diapers

Household and Health & Beauty products from world class brands such as Dove, Lux, Gillette, Johnson and Johnson, Dettol, Durex and many more. 
The Apricot Groceries App has many great promotions. All customers get FREE DELIVERY from  April to May. To celebrate Songkran the first 2,000 customer orders get ฿300 OFF with a minimum spend of ฿320 when using the code 

SONGKRAN.

  Returning customers get ฿350 total off their next 4 orders placed within 30 days when using the code 

FRESHAPRICOT

.* Last but not least, you can get  50% OFF Fresh products until the end of April! So many deals!

 
Through centuries and civilizations, the Apricot has adopted numerous meanings — prosperity in ancient Greece, luxury in the Middle East, and happiness in China.  For us, we use the symbol of the Apricot to bring you what you desire most from your food: freshness, supermarket prices, and instantly there when you need it. We're delivering fresh happiness from our tree to yours so you can spend time with the people you love. 
The most important part of any grocery delivery service is the selection of products and the ability to serve the needs of the neighborhood community. Customers can use the in-app chat to speak with our grocery agents to request new products, ask for ingredient substitutions, or just to get product advice. All new products go through a careful sourcing process before being featured in the app so that customers get only the best to use for their family recipes.
We all know how frustrating it is to order online and get half your items delivered. The Apricot Groceries App solves this challenge through technology, tracking all inventory in real time so they only show what is available, allowing all orders to be 100% complete with only the freshest items. Apricot love's food and our customers do too, so to give the best experience Apricot controls the whole process with its own dark store, carefully trained staff, and its own motorcycle fleet. To show we care Apricot offers a Freshness Guarantee which means that if you are not satisfied with the quality you can call them and they will refund you.

 
"We saw a gap in the market when all of our orders were delivered in an hour, missing items, and those that were delivered were not of the quality I would pick myself in the supermarket. We created the Apricot Grocery App to solve these problems." Said Edward Morales who leads expansion for Apricot Groceries.