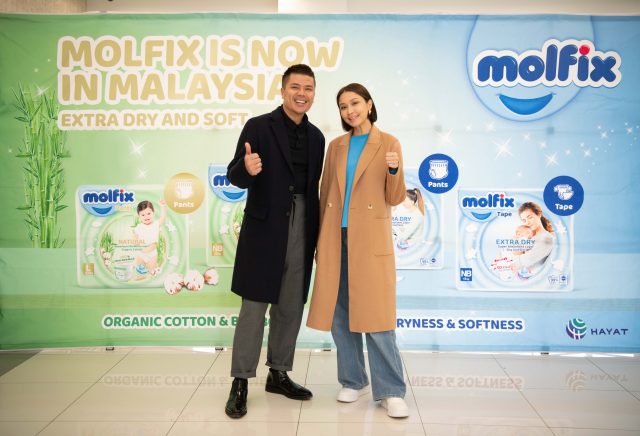 Introduces new diaper brand to all Malaysians
Kuala Lumpur, 21 April 2022 – Globally leading FMCG player, Hayat – the world's 5th largest branded diaper manufacturer, with the mission of fulfilling the needs of mothers and babies, and making the journey of motherhood a happy one, announced a popular celebrity couple Scha Alyahya and Awal Ashaari, as its first brand ambassador for diaper brand, Molfix in Malaysia. 
Molfix reaches millions of babies and mothers in more than 100 countries. The brand aims to bring smiles to moms and babies all around the world. Before expanding to Southeast Asia, namely Vietnam, Thailand, and Malaysia, the brand extensively researched mothers and children and tailored their lifestyles and needs. Today, Molfix is ready to provide a soft, comfortable, gentle touch experience, and bring smiles and happiness to Malaysian babies and mothers.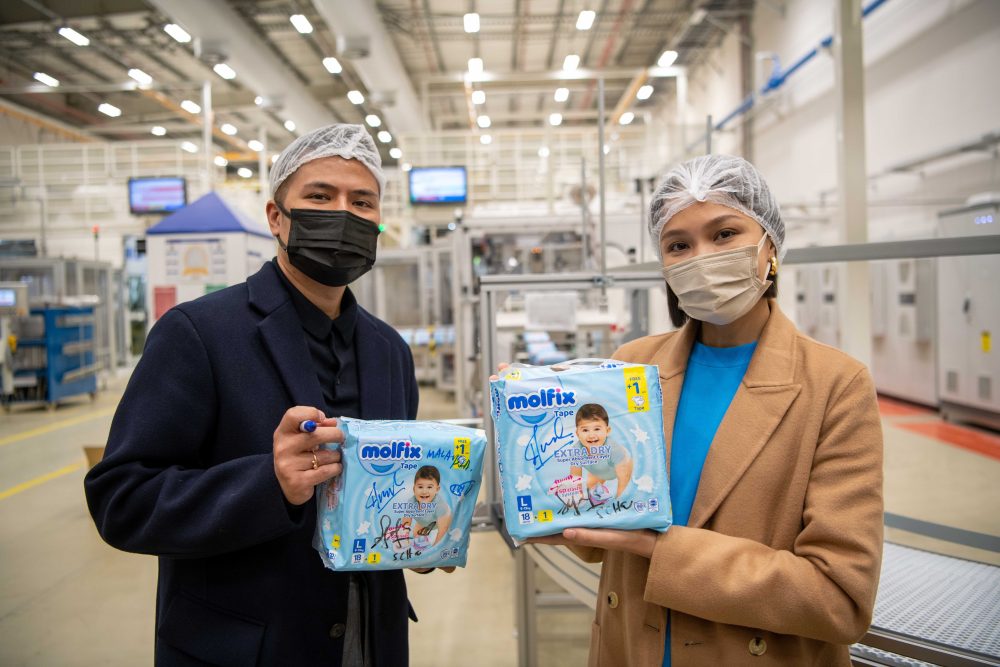 Commenting about being selected as the Molfix brand ambassador, Awal Ashaari said, "I am thrilled to join the Molfix team as a brand ambassador. We visited Turkey, the brand's R&D Center, production facility, and explored every detail. We have never worked for a brand that we don't trust. So Molfix meets the expectations of all parents. We found the best diaper for our daughter and other babies."
Scha Alyahya shared her experience of being the brand ambassador with her baby Lila. She said, "I must extend my appreciation and thanks for this honour. I am delighted that Molfix has chosen me and my husband, Awal, and Lila (my child) to represent Molfix in Malaysia. I had the opportunity to travel to Turkey when I was pregnant with my first baby. I learned about Molfix while I was strolling through department stores and supermarkets, as it is one of the top brands in Turkey, and is available in several countries."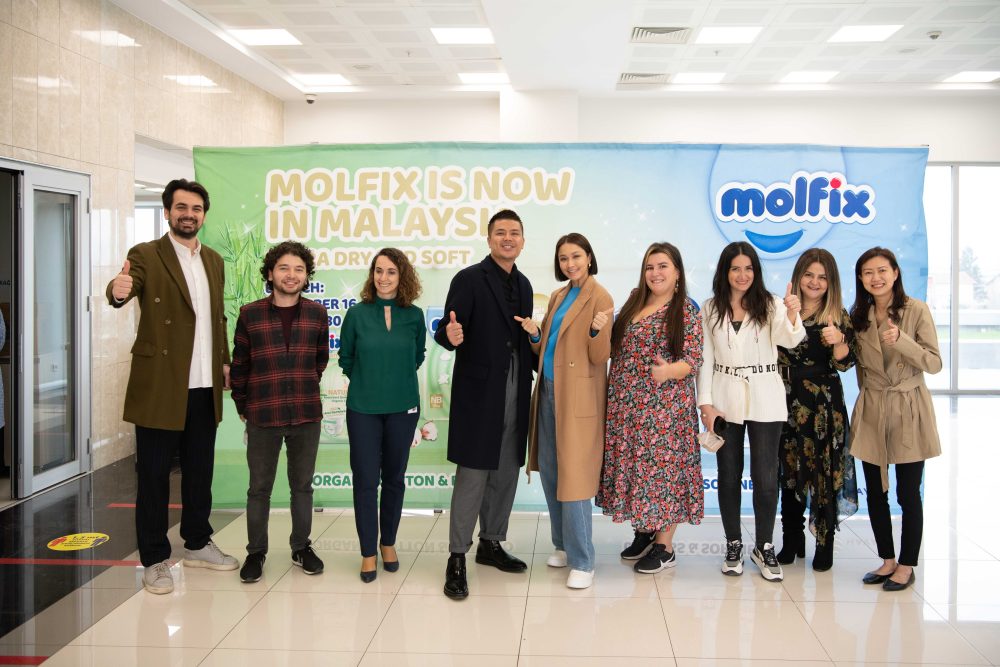 "It piqued my interest. When we welcomed our second child, Molfix was yet to make its way to Malaysia. Now I have the opportunity to try Molfix products with Lila. When the brand approached me, I was delighted to be considered as an ambassador. Upon having Lila try the product, she was very happy during active moments as it did not cause irritation or rashes. It allowed my daughter to do her activities to the fullest. Just like this, a mother like me can be very happy and relaxed. "
"We are honored to have Scha Alyahya and Awal Ashaari join Hayat Malaysia as Molfix brand ambassadors. We found that Scha and Awal's professionalism and star quality will be an excellent match to the Molfix brand as we work together to communicate with all the moms in Malaysia about the uniqueness, and quality of our product, besides connecting our brand to every family in Malaysia," said Mr. Alp Bilgili, General Manager at Hayat Malaysia.
"We believe that Molfix Malaysia's brand ambassador will be a powerful opinion leader for parents who want the best for their babies; a person who embodies commitment, natural charm, and a premium lifestyle dedicated to happiness which all mothers aspire to have, and which are reflected in the brand personality of many aspects of Molfix's image," added Mr. Alp Bilgili. 
Molfix aims to become one of the leading brands in five years in each country by providing premium-quality baby care products. These days consumers are cautiously selecting products made from natural materials to ensure safety as these products do not cause any irritation to sensitive skin. With its strong passion for providing better products and understanding the needs of our consumers, Molfix is looking forward to bringing comfort, joy, and happiness to Malaysian babies.
For more information, please visit Molfix.
About Hayat Holding
Hayat Holding, whose foundations were laid in 1937, is a global player today with its 41 companies operating in different industries, including Hayat in the fast-moving consumer goods sector, Kastamonu Entegre in the wood-based panel sector, and Limaş in the port management sector, with a workforce of over 17,000 people. We deliver 46 Turkish brands produced with advanced technologies in 36 production facilities in 12 countries to millions of consumers worldwide.
About Hayat Consumer Goods
Operating in the fast-moving consumer goods sector, Hayat was founded in 1987. Today, rapidly advancing on the path of globalization with 21 production facilities in 8 countries around the world, Hayat ranks 45th in the "Turkey's Largest Exporters" list according to 2020 data with its exports to 100 countries. With its production performance in Turkey, it ranks 39th in the "Top 500 Industrial Enterprises in Turkey" list.
Hayat is the world's 5th largest branded diaper manufacturer and the largest tissue producer in the Middle East, Eastern Europe, and Africa and a major player in the fast moving consumer goods sector. With its 15 powerful brands, including Molfix, Bebem, Molped, Joly, Bingo, Test, Has, Papia, Familia, Teno, Focus, Nelex, Goodcare, and Evony in the hygiene, home care, tissue, and personal health categories, Hayat brings HAYAT* to millions of homes in more than 100 countries.
*"Hayat" in Turkish means "life"
With the belief that everyone in this world has the right to access the best quality products at affordable prices, Hayat has been carrying its products to the geographies it operates in and conducting its business with a focus on high quality and innovation since the day it was founded.
About Molfix 
Ranked among the top 5 in the world!
We are the world's 5th largest branded diaper manufacturer
Another first from Molfix!
We bring health and hygiene together with our bacteria-resistant packaging and the use of UV-C (light) in production!
"Bond with Love"
With Bond with Love social responsibility project, we help mothers and infant babies to connect to life with love. 
MOLFIX BRAND BELIEF 
Molfix; believes that motherhood is an amazing journey of discovery. On this journey, mothers make discoveries with their babies.
Babies discover the world and mothers are happy when their babies learn about the world.
Along this journey, mothers re-learn creativity, endurance, patience, practical solutions and extraordinary details with their babies.
All mothers realize 'the child in their soul' with their babies.
Molfix Natural is here to support mothers and be their companion on this amazing journey!
Motherhood is the best adventure of your life. Enjoy it.