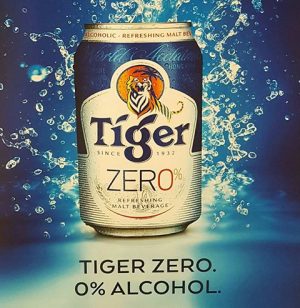 New Tiger Zero

Heineken Malaysia (formerly Guinness Anchor Bhd) has made available Tiger Zero in Malaysia. The alcohol-free beverage is available at selected food service establishments including at Sanoook, a Thai-Japanese restaurant at Sunway Pyramid West (image below).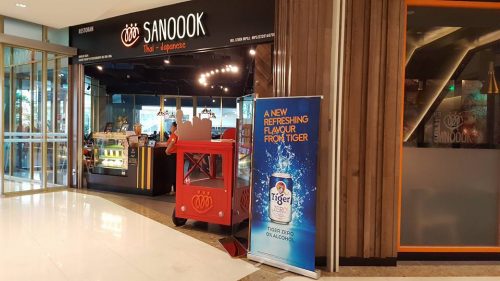 Tiger Zero was first made available in October-November 2016. As the beverage is currently on trial, there is no confirmation if Tiger Zero will be made available in other channels or join the existing portfolio on a permanent basis.
Higher excise duties in place since March 2016
On 1 March 2016, the Malaysian government raised the excise duties on beer and stout, the first in ten years, as part of the Excise Duties (Amendment) Order 2016. Beer and stout will now be calculated according to the alcohol value per litre of each product.
The new structure is RM175 per 100% volume per litre from RM7.40 per litre and 15% ad valorem tax. According to Hong Leong Bank Investment Research on 3 March 2016, "a standard can of beer is 320ml with circa 5% alcoholic content, translating into a duty hike of circa 28.3 sen/per can."
Heineken exploring non- and low-alcoholic drinks
Heineken Malaysia Managing Director Hans Essaadi said the company is exploring opportunities with regards to low alcoholic or non-alcoholic beverages. Speaking on 18 July 2016 during the group's financial results briefing, Essaadi stressed "historically, we stayed away from the non-alcoholic segment, but with the revised excise tax in place and consumer trend that we are seeing, we need to explore." Lower alcoholic beverages attract lower excise duties.
He mentioned new products from the non-alcoholic segment would only be realised in 2017, according to the The Edge Financial Daily. He also added that non-alcoholic Malta's share of revenue is "relatively small". Tiger Zero is probably the product he was referring to for debut in the non-alcohol segment in 2017.
Cider is another segment that Heineken wants to grow in Malaysia. Heineken's Strongbow is the second largest player in the local cider market after Carlsberg's Somerby.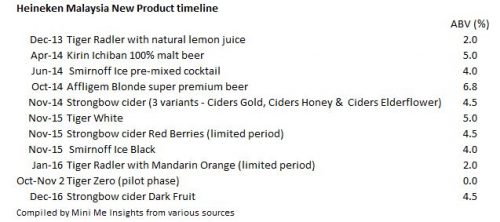 In fact, Heineken has been focusing on lower-alcoholic beverages with Tiger Radler (2% ABV) and Strongbow (4.5% ABV) in the past in addition to Anglia Shandy (1% ABV). The alcohol-free, lightly carbonated malt beverage Malta was recently given a new look in 2016.
What Mini Me thinks
With the rise in the excise duties on beer, companies are accelerating their effort to grow their low- and non-alcoholic beverage revenue. This is in line with the new generation of millennials who are seen to be embracing the sober lifestyle. Products like ciders are effective in reaching out to younger and female drinkers who are looking for something lighter and sweeter.
As for alcohol-free beverages like Heineken 0.0% MAXX (selling in Indonesia as Bintang 0.0% Maxx) and Guinness Zero, they would probably work best by targeting young male adults who want the taste and aroma of hop.