Probably the Best Year of Golden Opportunities – CNY 2017

Carlsberg Malaysia, the brewer of Carlsberg, Asahi, Royal Stout and Somersby, has declared 2017 Chinese New Year as "Probably the Best Year of Golden Opportunities," a continuation of its "Probably the Best Beer in the Word" global marketing campaign. Opportunity (机 ji) rhymes with the word rooster (鸡 ji). For 2017, the brewer "encourages consumers to see opportunities in all directions."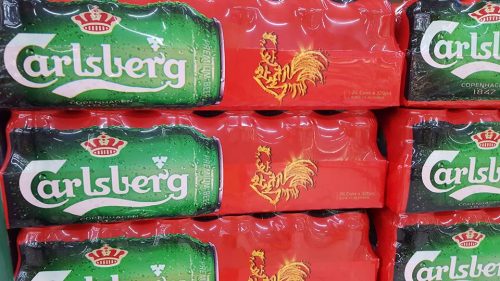 Probably The Best Year – CNY 2016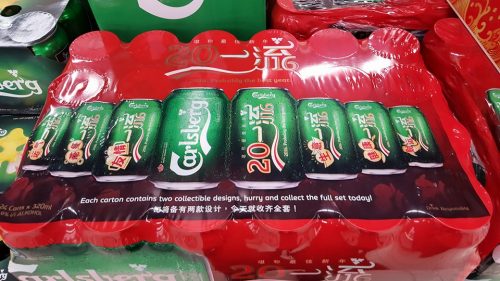 In 2016, Carlsberg's Chinese New Year tagline was "Probably The Best Year" (20一流). The Chinese character 流 liu rhymes with the word 六 liu or six. Back then, there were limited-edition collectible designs in each carton. But this year, Carlsberg has decided not to have collectible cans.
Focus on Carlsberg Smooth Draught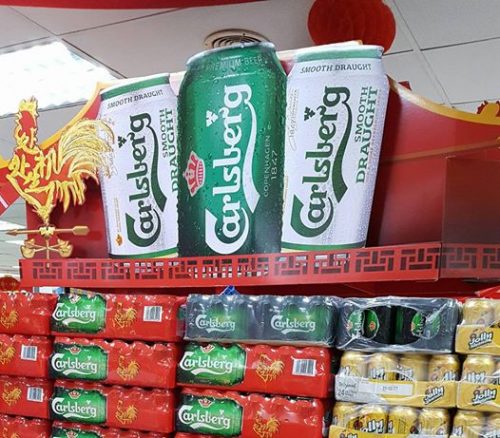 The key focus for the CNY 2017 campaign is the new innovative product Carlsberg Smooth Draught. The draught beer, now available in both bottle and can, was first developed by Carlsberg Malaysia in cooperation with Carlsberg in Copenhagen. It was finally introduced in March 2016 after taking nine months to create it. Carlsberg Smooth Draught has an ABV of 4.8% compared with 5% for the green label, offering consumers with something light and refreshing.
"The main character of the beer is fruitiness and hoppiness, light maltiness, with citrus and floral notes," said Carlsberg supply chain director
David Bidau
in an interview with The Star newspaper.
As a contrast to the CNY 2017 in-store display, the CNY 2016 in-store display focused on the flagship Carlsberg brand together with brands such as Asahi and Jolly under its stable.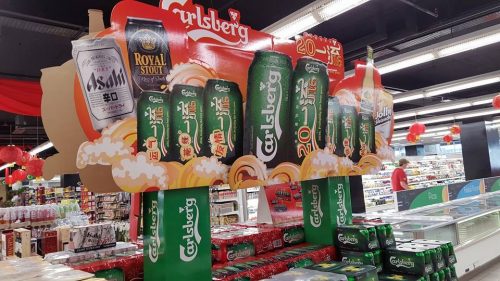 Get your shopping carts paid for at Aeon Big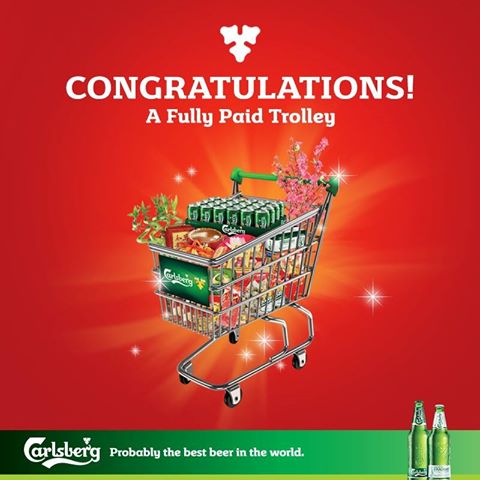 on 7-8 and 14-15 January 2017, from 12pm to 3pm at selected Aeon Big outlets in Malaysia, shoppers can stand a chance to have their shopping carts paid for when they purchase above RM200 from Carlsberg Malaysia's portfolio of brands.
Win smart phone or cash vouchers at Giant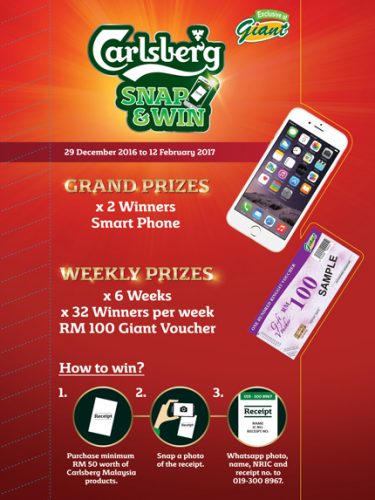 Starting from 29 December 2016 until 12 February 2017, with every purchase of any Carlsberg Malaysia products worth RM 50 and above, consumers stand a chance to walk away with latest Smart Phone or Giant Cash Voucher of RM 100.
Somersby Twist of Luck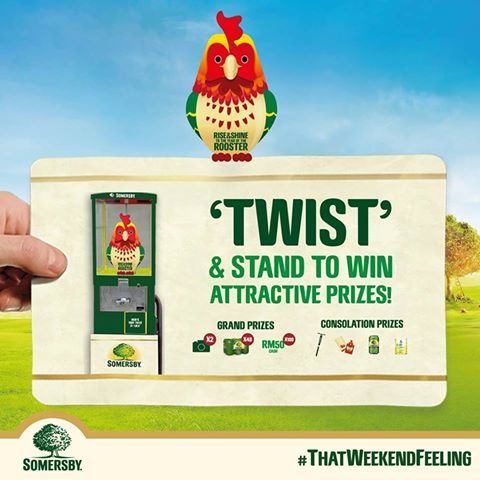 Twist and win egg-citing prizes upon purchase of 2 x 4-bottle pack or 2 x 6-can pack at participating outlets at Aeon, Aeon Big, Giant and Tesco on 7th, 8th, 14th, 15th, 21st and 22nd January 2017. Consumers can stand to win attractive prizes by capturing a 'prosperous egg capsule' from the Somersby vending machine.
Foodservice channels
From 3 January to 28 February 2017, consumers who have purchased three big bottles of Carlsberg or Carlsberg Smooth Draught in participating restaurants, coffee shops and food courts will receive a deck of playing cards and stand a chance to win prizes such as a Samsung Home Theatre System, Ogawa Handheld massager and more
What Mini Me thinks
Carlsberg Probably the Best Beer in the World marketing campaign has proven to be extremely versatile in adaptive itself to local celebratory events. The two consecutive years of Chinese New Year marketing using the Probably the Best tagline has strengthened the brand's connection with local Chinese consumers.