Petrol stations in the Asia-Pacific region are reinventing themselves into destination points not just for motorists but for nearby residents.
The Foodary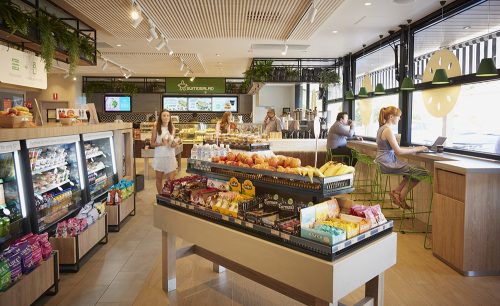 In Australia, Caltex has recently announced the opening "The Foodary." The former Caltex Star Mart in Sydney's inner west suburb Concord was transformed into a food and services convenience hub for motorists.
The unique thing about this petrol station is it comes with an app where commuters can pre-order food before refuelling. They can use the app to refill and pay for fuel on-the-go without needing to make the payment in-store.
Apart from offering on-the-go options for breakfast, lunch and dinner, The Foodary supports local small businesses by selling baked goods from artisan bakers Brasserie Bread and meal kits by The Corner Store.
Commuters can also drop by for the daily laundry service through Washem and ParcelPoint parcel pick-up.
the FILLING STATION in KL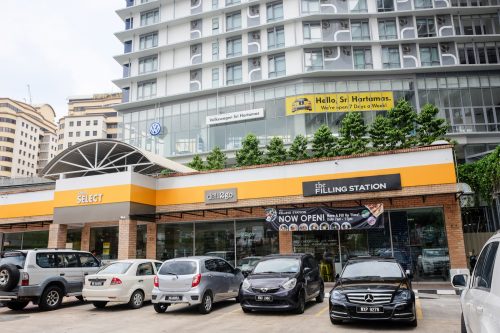 In Malaysia, the FILLING STATION at Shell Desa Sri Hartamas in Kuala Lumpur was launched on 21 January 2017. According to the post-release, "the FILLING STATION is Malaysia's first ever cafe within a petrol station with a fully equipped kitchen; ensuring customers are served freshly prepared food."
Eat Drink KL, a food blog, has an excellent write up, together with images, of the FILLING STATION. Here I have reproduced two images from the blog. Image from Eat Drink KL above and below.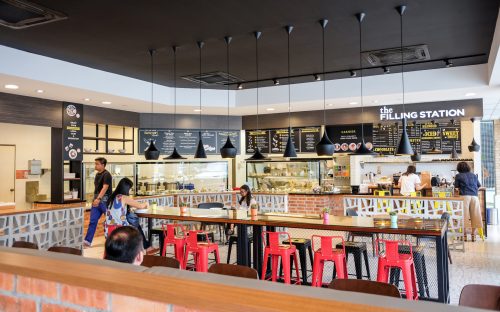 According to Nur Mahidza Mohd Zain, owner of the FILLING STATION, "when Shell decided to upgrade the facility and offerings at Shell Desa Sri Hartamas, we jumped onto the chance to change the perception that petrol station only offers mediocre prepacked food. We wanted to revolutionise the practice by coming up with a full-fledged eatery that provides nutritious homemade food in a clean and attractive environment – something that has never been done in any petrol station in Malaysia before."
The post-release also stated, the new homegrown establishment offers a variety of food and beverage choices comprising local fare including kuih muih (local cakes), pasta, salad, burgers and more to cater to the diverse communities within the locality. Its dishes are homemade without any MSG (Monosodium glutamate) and without any artificial colouring and preservatives added.
Shairan Huzani Husain, managing director of Shell Malaysia Trading Sdn Bhd and Shell Timur Sdn Bhd said "we at Shell continuously strive to make our customers' journeys better by providing products and services that cater to their specific needs. We are confident the FILLING STATION will elevate the customers' fuelling experience as it is designed to make their pit stop more enjoyable and leave refreshed."
The commonality between The Foodary and the FILLING STATION is they make consumers stay a bit longer (cosy environment and fresh food) and leave refreshed.
Noonid food shops to open at PTT petrol stations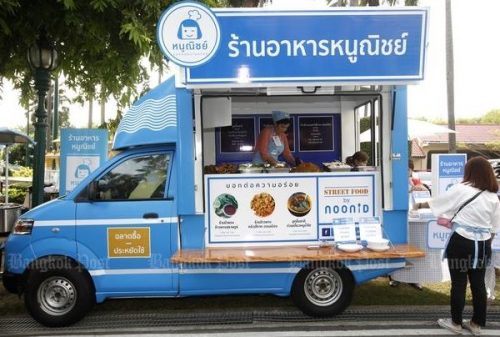 In Thailand, the Bangkok Post reported the Ministry of Commerce will open 600 or more "Noonid" food shops at PTT petrol stations in 2017. Noonid serves khao kaeng, which is curry with rice costing not more than THB 35 designed to help people cope with rising cost of living (image above).
There are already 11,809 Noonid shops in the country at the moment including 17 Noonid food trucks. The plan is to expand to 15,000 shops and 35 food trucks in 2017, said Commerce permanent secretary Wiboonlasana Ruamraksa.
PTT will be a new channel for Noonid to serve nearby residences and commuters. The first Noonid at PTT will open in early March 2017 and all 600 outlets will open by September 2017.
This is another example of how petrol stations can play a vital role in community service by dispensing affordable meals to the masses.
We expect to see more interesting concepts involving petrol stations in the Asia-Pacific region down the line as they become anchor points for both commuters and nearby residents seeking convenience.