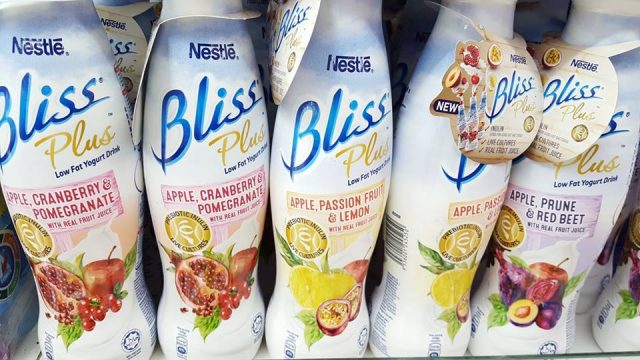 New Nestle Bliss Plus
Nestle Bliss, Malaysia's popular yoghurt drink, now has a new variant Bliss Plus. The new Nestle Bliss Plus comes with prebiotic inulin to promote good gut bacteria. It also contains live cultures and real fruit juice.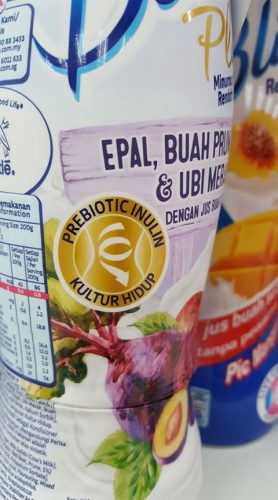 Nestle emphasises inulin in recent innovation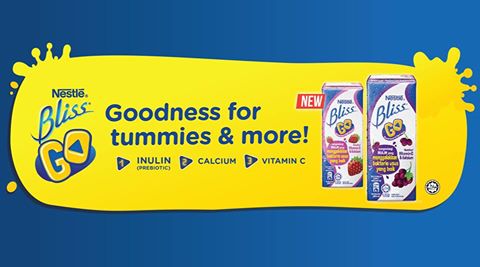 Inulin features prominently in Nestle's new dairy innovation. The ambient yoghurt drink Nestle Bliss Go, launched in early September 2016, comes with the soluble dietary fibre to promote the growth of good bacteria.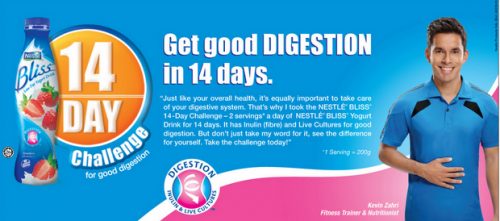 Nestle Bliss was marketed to contain inulin around 2010-11. But when you look at the nutrition information on the current packaging of Nestle Bliss, there is no mentioning of inulin.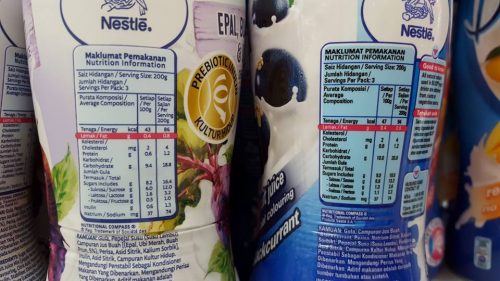 Nutritional information – Nestle Bliss Plus (left); Nestle Bliss (right) (image above)
Three Nestle Bliss Plus variants
The new Bliss Plus low fat yoghurt drink comes in three variants using new ingredients not found in the existing Nestle Bliss such as red beet (beetroot), cranberry and pomegranate:
Apple, cranberry & pomegranate
Apple, passion fruit & lemon
Apple, prune and red beet
The net weight of the The yoghurt drink is 700g and has to be refrigerated at 4°C.
Nestle Bliss Plus versus competitors
This is how the new Nestle Bliss Plus fares against Nestle Bliss and other products in the low fat segment as well as against its zero fat peers. Nestle Bliss Plus is the only yoghurt drink in the country with inulin, which helps it to differentiate from competitors.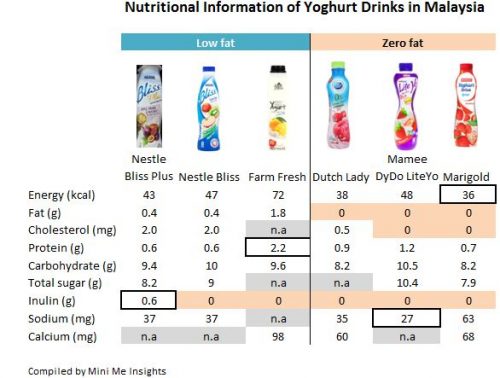 What's the next flavours?

The Halal Malaysian portal is a good source to seek clues on what's next for Nestle Bliss. According to the portal, which is run by the Malaysian halal certifying body JAKIM, the company has obtained the halal certification for two new flavours for the Nestle Bliss range.
The new flavours are Kurma Gula Melaka (palm sugar dates) and Rose Bandung (condensed milk flavoured with rose cordial syrup), which have not been launched in the market. The two flavours are already featured in the Nestle Tradisi Potong ice cream range.  We can only guess that Kurma Gula Melaka and Rose Bandung will be introduced soon. [These were offered as a limited-edition during Ramadan 2017]