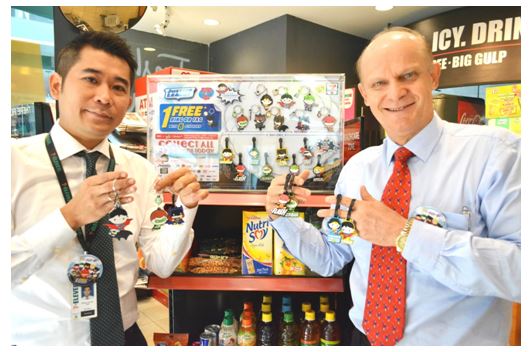 Tuesday, 21st March 2017 – Superb news, Justice League fans! 7-Eleven Malaysia proudly presents its latest loyalty program – Justice League Ring or Tag™, featuring exclusive collectibles of your favourite Justice League characters!
Ring or Tag™ comprises of 8 designs each of either a key ring or bag tag, highlighting iconic characters, namely Superman, Batman, Wonder Woman, Flash and more! The collectibles also has a glow in the dark feature for some added exclusivity and to maintain the element of surprise, comes in individual "blind" packs. As an added surprise, there will also be 3 limited edition Ring or Tag™ each and avid collectors can begin redeeming these adorable and exclusive items at any 7-Eleven stores nationwide.
This loyalty campaign will run for 8 weeks beginning 21st March 2017 until 15th May 2017. During this period, customers will be rewarded with one program sticker for every RM5 spent in a single receipt on selected purchases in stores. What's more, bonus program stickers will be rewarded when each purchase include preferred partner's products listed by 7-Eleven Malaysia. Once all 8 stickers are collected, customers are able to redeem a Ring or Tag™ for free.
"Ring or Tag™ will be a major appeal to all, especially Justice League fans," said 7-Eleven Malaysia's CEO, Gary Brown. "The collection is of high quality, and with its exclusivity of being a DC Comics-licensed product, it certainly is a 'must have' collectible! It is also of functional use whereby to keep our keys organized, as a luggage bag identification or simply as a decorative piece. We have also added a glow in the dark feature – making it the first of its kind from our past loyalty programs."
"As we constantly strive to ensure utmost customer satisfaction, we believe that this loyalty program will meet up to expectations and is bound to incite excitement for customers to collect them all!" he concluded.
In conjunction with the Ring or Tag™ loyalty program, 7-Eleven Malaysia will be commencing its Ring or Tag: Search Party from 28th March until 8th May 2017. The weekly online contest is open to all 7-Eleven customers with exciting prizes up for grabs! Participants are required to collect the Justice League Ring or Tag™ at 7-Eleven Malaysia, snap a creative photo based on the announced weekly selected Key Ring or Bag Tag and share it on their Facebook page.
7-Eleven Malaysia is the largest stand-alone convenience store-chain nationwide, with more than 2,100 outlets across the country. The launch of Justice League Ring or Tag™ extends the journey to continuously aspire to elevate customers' shopping experiences and scale greater heights as the leading convenience store operator in Malaysia. To achieve expectations in providing convenience to customers, 7-Eleven Malaysia opts to stay true to its motto, Always There for You.
For more information on Justice League Ring or Tag™ or Ring or Tag: Search Party contest terms & conditions, visit www.7eleven.com.my or Facebook at 7ElevenMalaysia.
About 7-Eleven Malaysia
7-Eleven Malaysia Holdings Berhad through its subsidiary 7-Eleven Malaysia Sdn. Bhd. is the owner and operator of 7-Eleven stores in Malaysia. Incorporated on 4 June 1984, 7-Eleven Malaysia has made its mark in the retailing scene and have been a prominent icon for over 32 years. 7-Eleven Malaysia is the pioneer and largest 24-hours standalone convenience store operator in Malaysia with over 2,100 outlets nationwide and serves more than 900,000 customers daily. 7-Eleven stores can be found across bustling commercial districts to serene suburban residential compounds throughout Malaysia, from petrol stations and LRT stations to shopping malls and medical institutions. 7-Eleven is Always There For You.