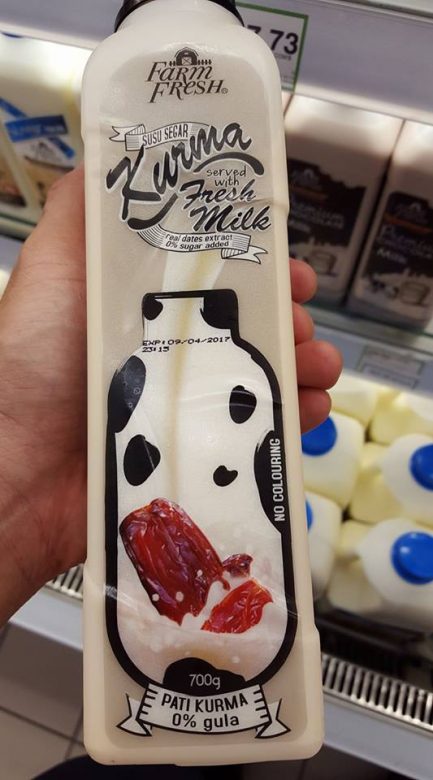 Now in modern trade
Malaysia's Farm Fresh has recently made available its Kurma Milk in the modern grocery stores. Milk made with kurma or palm dates is known to be a "good source of iron for pregnant and breastfeeding mothers, helping the development of red blood cells in infants."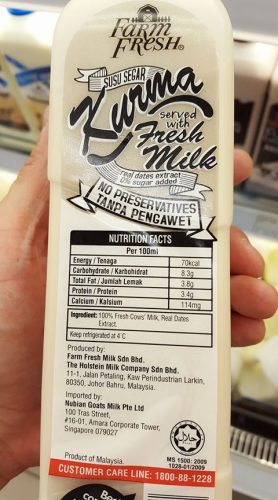 No sugar and preservatives are added.
Selling mainly through home dealers
Apparently, Kurma Milk has been in the market for sometime selling mainly through home dealers. According to one of the home dealers, they cannot order only Kurma Milk from the manufacturer as there is limited stock available. Each Kurma Milk ordered has to be matched by another milk from Farm Fresh. Therefore, when the home dealer sells Kurma Milk to their customers, the package will come with other non-Kurma milk as well.
Tapping milk booster trend
Mini Me Insights has talked about the rising popularity of milk booster in Malaysia and Indonesia in the past. Click here for the article.

Google Trends – Milk Booster – Malaysia
Palm dates are well known for its nutritious qualities among the Malays in Malaysia. One way to increase the breast milk supply is to consume palm dates. The other milk boosting ingredients are habbatus sauda, honey and cocoa.
The expansion of the distribution channel for Kurma Milk is positive as it has made the product more widely available. Kurma Milk also fills the gap in the lack of commercially available milk booster in the form of fresh cow's milk.
Kurma Milk (700g) is available at Cold Storage for RM 7.99 and is priced at a premium compared with the chocolate milk.